The Last Coat: Premium 400 GSM Premium Microfiber Towels (various quantity options)
$19.95
$14.97
(24% savings)
**Select Your Microfiber Towel Pack Option from the Quantity Pull Down Selector.**

**Quantity of specific colors will vary due to current inventory. All towels are 400 GSM Premium, dual pile. These towels have a stitched edge. Edgeless are currently out of stock and will be available at a later date.**

The Last Coat (TLC)'s Microfiber towels are highly refined and looped towels which makes them ultra-soft and perfect for polishing, final-touching, and buffing The Last Coat into your car, truck, marine, motorcycle, and home surfaces.

Now with 400 GSM Microfiber, these towels have a thicker pile on one side, and thinner on the other, allowing you to use each side for different surfaces such as glass, exterior surfaces, leather, plastics, chrome, etc.
Absolutely no rough edges, tags, or coarse fibers that feel more like a rag than something you would want to put on the vehicle you care about. We didn't skimp on these microfibers and they are the exact same ones used by the professional detailers that formulated and developed The Last Coat.

Our professional quality polyester/polyamide fabric is 100 times finer than a human hair. At over 90,000 microfibers per square inch, these are the only towels our pro detailers will trust for the delicate surfaces of exotic and luxury cars. Scratch-free, lint-free, and ultra absorbent, each one of these towels will measure 16" x 16" across and are perfect for cars, boats, RV's, bikes, and home & electronic surfaces. These towels can be washed up to 500 times, and it is recommended to use scent free/dye free laundry detergent to wash them.

Some popular brands are claiming their microfiber towels are the softest and most luxurious on the market but make no mistake, they won't stack up to the true professional use that The Last Coat microfiber towels are put through.
Customer Reviews
Write a Review
Ask a Question
Filter Reviews:
coat
shine
towels
results
truck
microfiber towels
application
TLC2
quality
finish
10/21/2020
R. Anthony (Tony) Cook
United States
Good Microfibers
I got a package of 5 with the "Weekend Warrior" bundle, and I ordered another 5 pack when I got TLC Black Ice. These microfibers seem to hold up really well after several machine washings. I like that there are two different sides to these towels, one has shorter pile, the other more plush. I cut several of these towels into smaller, wash cloth size pieces for applying Black Ice and TLC2. Since you have to discard after applying Black Ice, you don't loose a whole towel. The others washed up fine for reuse with TLC2 or AMP. The full size towels worked great for buffing after application. I would recommend this product to everyone!!
10/19/2020
esmeralda S.
United States
Best product
Very good product. Will keep buying.
10/19/2020
CJ A.
United States
Great and easy to use products
I never did any detailing of any kind to any vehicle before. I was worried about streaking, water spots, and everything else that could go wrong but opted to give it a shot. I was very impressed with the end results after using the last soap and TLC. It left my truck looking better than when I got it and it was super easy to apply.
10/15/2020
Joe J.
United States
Old look new again!
The product is thick and absorbs into older plastic trim great. The plastic soaked up the product great, then after a few minutes it looked shiney. Buffed off with a clean micro like directions said with no problem. Tried some off label applications also for giggles. If it lasts a couple months I'll be happy. The shine to the plastic is awesome! The applicator pad did fall apart after one use but I just used a micro fiber towel.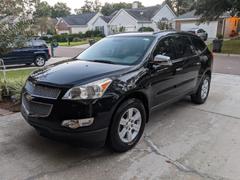 10/11/2020
Augie S.
United States
Simply the Best
Every item has been easy to use and great videos if you need them. Your towels do a wonderful job of soaking up water. Latest purchase was for Black Ice. Results were simply amazing!
10/04/2020
James R.
United States
10/01/2020
David P.
United States
Cloths
It is important in using the right cloths for application. But also in shining after applying. The dry microfiber cloth does that.
10/01/2020
Jeff
United States
Great quality microfibers
I love these microfiber towels. They are high quality and very durable. I will continue order these.
10/01/2020
Jeffrey B.
United States
I love these microfiber towels
They are very good quality. Some of the best I have used.
09/29/2020
Bob D.
United States
Easy to use
Just follow the video and the application is much easier to use than a paste wax with excellent results.