The "Weekend Warrior" Bundle
$179.95
$99.97
(44% savings)
The "Weekend Warrior" Bundle has been a highly requested bundle. Sort of like a "mini" version of our "Gearhead Bundle", the Weekend Warrior gives you our customers' favorite products for every step of the detailing process.

From surface prep to cleaning, to finishing off with a World-class shine, this bundle has it all, and all with an affordable price tag.

The Weekend Warrior Bundle comes in 2 options. One with our Bare Slate Clay Mitt, and one without. That's the only difference between the two.

Check out the video below that shows a start to finish prep using the products from The Weekend Warrior Bundle:



Both options come with the following:
➡️ 1 - 16 oz. Bottle of The Last Coat (upgraded division). Our flagship product. The one that started it all. The World's most powerful DIY all-surface coating that lasts for 6 months with extreme durability and protection, leaving you with a hard mirror-like finish that turns heads.


➡️ 1 - 16 oz. Bottle of AMP. AMP is our hybrid ceramic topper that is "the cherry on top". It helps amplify gloss and especially slickness and can be used as a diluted waterless wash, or quick detailer. Customers love AMP's ease of use and speed to work with. As with all of our products, a little goes a long way!


➡️ 1 - 32 oz. Bottle of The Last Soap. This is the soap we use internally 7 days a week. Infused with our TLC coating technology, The Last Soap will detox, wash, and seal your vehicle's surface all in one simple to use and versatile solution. Only needing between 1-3 ounces per wash for thick foam and added coating maintenance.

And if you opt for the version with the Bare Slate Clay Mitt, you'll also receive...


➡️ 1 - Bare Slate Clay Mitt. DIY detailers and gearheads know that for the ultimate surface prep, clay barring is a tried and true first step. But, clay bars can be tricky and are a hassle for those not experienced with the process. That's why we're including our Bare Slate Clay Mitt inside The Weekend Warrior. Bare Slate can be used with traditional clay lubricants. Or, after washing with The Last Soap, you can refill your wash buckets with more of The Last Soap, and use it as your clay lubricant, fully hydrating Bare Slate, and getting to work. **Make sure to keep HIGH levels of lubrication at ALL times using the Bare Slate Clay Mitt, with light pressure, to avoid marring of the surface.**

This is an affordable bundle for guys that want our most popular products at reduced pricing and to get some spectacular results in much less time and with much less effort. 
Customer Reviews
Write a Review
Ask a Question
Filter Reviews:
shine
coat
results
truck
vehicle
Clay Mitt
The Last Coat
application
paint
Cars
10/21/2020
R. Anthony (Tony) Cook
United States
Great Bundle to Start
I purchased the Weekend Warrior bundle to get me started with TLC products. The bundle is a great value and gives you most everything you need to get into detailing your vehicles. Shipping time was fantastic! Very pleased with this purchase! My only regret is that I didn't get the Barely Street Legal bundle to start with, because I ended up ordering TLC Black Ice shortly afterwards and had to wait for it to get here, since I needed to use it first, before TLC2.
10/16/2020
Tim E.
United States
10/15/2020
Bryce J.
United States
10/13/2020
Ron B.
United States
Weekend Warrior
Very impressed with the TLC2 , clay mitt, The last soap and videos. Just purchased a 2021 Mazda CX-30 and wanted to improve the appearance right from the beginning. Follow the videos and was very successful in obtain a better finish that I expected! Started with The Last Soap moved onto the clay mitt and saw a substantial difference in the brand new paint finish. The TLC2 was easy to apply and the results are fantastic. I will apply AMP next weekend. Saw other videos that instructed me on the additional uses of TLC2 on the car interior. Worked really well on the dash door panel, and leather seats. I had left over soap in the applicator and tried it out on the window on my home. I was so impressed with the shine and slickness of TLC2 I applied it to our stainless steel kitchen appliances' and was not disappointed. An additional benefit using on stainless steel are no more fingerprint marks. TLC2 also worked very nicely on our marble countertops! I guess I was a weekend Warrior!
10/11/2020
Dorin P.
Canada
Excellent
Using TLC in the last two years.no complains..excellent product
10/08/2020
John K.
United States
Excellent!
Everyone had wanted to know what I used on my truck to make it so shiny. Application was easy and site videos were very informative. Well worth the money.
10/06/2020
Jordan .
United States
Best product i used
I loved it works amazing gives it a nice extra shine and gloss look when using The Last Soap then apply AMP after makes it feel slick and smooth like ice well worth using would definitely recommend any one and every one to this product for thier person vehicle its a 10/10 for me with a 5 star hands down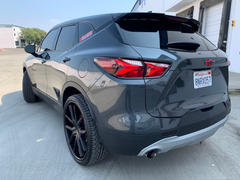 10/06/2020
Jane P.
United States
New Car Last Coat Application
Our new car arrived with a nice shine. Thought I would wash it with Last Soap, add the Last Coat and finish it off with Amp to seal it. It was unreal! In comparison, it was like the car arrived without a shine. I couldn't believe the difference. The slickness was amazing. I've waxed many cars in my life but never got results like this. It truly is a wipe on wipe off application.
10/04/2020
Dolan W.
United States
NewBee User
After purchasing a 2017 Denali in August and living in Michigan with fall weather approaching I wanted to protect the trucks surface with a sealant that would last through the 2020/2021 winter. My Denali had been prepped at a dealership with an unknown product, which did show a high shine and water resistant beading ability. I purchased The Last Coat "Weekend Warrior" package and following it's prep and application as written. I noticed as I was buffing of the Last Coat that occasionally I was seeing flaws in the surface that were NOT see prior to application. The shine is SO INTENSE that any contamination on the surface becomes easley seen! Realize this truck had just been prepped by a major dealership and it's in above average condition. The flaws could NOT be removed with a alcohol scrub, only after removing the applied Last Coat from the area and then buffing the flaws out to a clean polished surface and reapplying The Last Coat to the surface was a clean even high gloss surface produced. The application and polished final finish could not be easier. The micro fiber towels sent in the kit are the best I have used! I have ZERO/ NO missed paste wax white lines that I have always found in the past decades of using numerous brands of carnuba wax. I am a totally satisfied customer of Last Coat and I will be purchasing another kit for my daughter for a Christmas gift as she shares my desire to maintain a clean high gloss auto. My H-D was a quick surface prep with a couple wipe downs with alcohol to remove it's prior paste wax, then applying The Last Coat and buff wipe to a high gloss. The Last Coat works for me and I have two more classic cars to apply it to yet!!
10/03/2020
Gregory C.
United States