The "Full Throttle" Bundle
$249.95
$149.97
(40% savings)
Ready to go all out?

The Full Throttle Bundle is currently our most "complete" and well-rounded bundle when it comes to cleaning, shining, restoring, and protecting every surface of your vehicle.


The Full Throttle  Bundle comes in 2 options.
BOTH options come with the following:

➡️ 1 - 16 oz. Bottle of The Last Coat. Our flagship product. The one that started it all. The World's most powerful DIY all-surface coating that lasts for 6 months with extreme durability and protection, leaving you with a hard mirror-like finish that turns heads.

➡️ 1 - 8 oz. Bottle of CeraTrim. CeraTrim has been blowing people's minds with the results it gets on old and faded trim. CeraTrim uses our popular and effective ceramic technology to bond deep into the pores of plastic trim surfaces, removing the impurities that have built up in the plastic and effectively restoring them to their original appearance.

➡️ 1 - 16 oz. Bottle of AMP. AMP is our hybrid ceramic topper that is "the cherry on top". It helps amplify gloss and especially slickness and can be used as a diluted waterless wash, or quick detailer. Customers love AMP's ease of use and speed to work with. As with all of our products, a little goes a long way!

➡️ 1 - 32 oz. Bottle of The Last Soap. This is the soap we use internally 7 days a week. Infused with our TLC coating technology, The Last Soap will detox, wash, and seal your vehicle's surface all in one simple to use and versatile solution. Only needing between 1-3 ounces per wash for thick foam and added coating maintenance.

And our top-end option for The Full Throttle Bundle also comes with the following:

➡️ 1 - Bare Slate Clay Mitt. DIY detailers and gearheads know that for the ultimate surface prep, clay barring is a tried and true first step. But, clay bars can be tricky and are a hassle for those not experienced with the process. That's why we're including our Bare Slate Clay Mitt inside The Full Throttle bundle. Bare Slate can be used with traditional clay lubricants. Or, after washing with The Last Soap, you can refill your wash buckets with more of The Last Soap, and use it as your clay lubricant, fully hydrating Bare Slate, and getting to work.  **Make sure to keep HIGH levels of lubrication at ALL times using the Bare Slate Clay Mitt, with light pressure, to avoid marring of the surface.**
➡️ 5 - Premium 400 GSM Microfiber Towels. These towels are highly refined and looped towels which makes them ultra-soft and perfect for polishing, final-touching, and buffing our coating products into your car, truck, marine, motorcycle, and home surfaces. Our professional-quality polyester/polyamide fabric is 100 times finer than a human hair. At over 90,000 microfibers per square inch, these are the only towels our pro detailers will trust for the delicate surfaces of exotic and luxury cars. Scratch-free, lint-free, and ultra-absorbent, each one of these towels will measure 16" x 16" across and are perfect for cars, boats, RV's, bikes, and home & electronic surfaces. These towels can be washed up to 500 times, and it is recommended to use scent-free/dye-free laundry detergent to wash them.
This bundle was one of our most requested bundles, so we're excited to bring it to you at reduced bundle pricing, giving you the ability to hit every surface of your vehicle quickly and easily.

Customer Reviews
Write a Review
Ask a Question
Filter Reviews:
truck
shine
coat
results
paint
application
Clay Mitt
TLC2
black ice
vehicles
10/15/2020
Dustin E.
United States
TLC2 and AMP
Great product and super easy to apply to the vehicle clear coat. 15 year old truck almost looks new again. All done just in time for the harsh winter time road chemicals. AMP added that extra shine and slickness.
10/03/2020
bruce b.
United States
Great results
Easy to use and a great result. The microfiber cloths were superior to the regular store bought types. Easily applied and took very little time to do the entire car.
10/02/2020
Mark K.
United States
The Last Soap and Amp
I recently did a quick wash on my truck, that has another companies SiO2 sealant on it, using The Last Soap and Amp. I was impressed. I used the Last Soap in my foam cannon and bucket - great foam out of the cannon, and suds in the bucket and super slick on the paint. Then I used Amp as a drying aid, it added sickness as I dried and "amped" up the shine even more than the base sealant. When I have more time, I'll be stripping off the current sealant and using TLC2 or Black Ice on it, can't wait to see those results.
09/28/2020
sarah c.
United States
great soap
Love the soap. It suds up nice and cleans well. The ceratrim is outstanding. I had a new car with a grey plug. I used this and it brought it back to black. I have also been using on anything else that is dingy like my door handle. It brought that back to black too. Amp is great for windows.
09/24/2020
pscheuerman@hotmail.comSchrm5658 Scheuerman
United States
Thanks for the Smiles Last Coat
Detailing my 2018 Chevrolet Silverado High Country truck has never bin easier . The Last Soap worked great to clean and prepare the surface . The Last Coat went on as smooth as silk . I applied and buffed in small areas . Every time I go out the door I have to smile . It's like she's brand new again . I sent my son a full package for his vehicles . I'm sure he'll be all smiles too .
09/23/2020
Jamie M.
United States
Easy to use, great shine.
Easy application, easy upkeep after the first coat. Love the product... meets expectations.
09/17/2020
Jonathan S.
United States
Full Throttle Review
This product was purchased for my new black truck. Not going to lie, I was nervous using the clay mitt on my Denali. Almost to the point of losing sleep. After watching your how to video, I decided to simply follow your directions and give it go. WHAT AN AMAZING PRODUCT. The shine is as if I'm looking into a mirror. The key for me is to see how long this product lasts before needing to reapply. I have no regrets for this product. Thanks John Stafford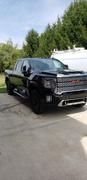 09/12/2020
Nick W.
United States
This product exceeded my expectations!
This is an awesome product! I hand washed my truck with the last soap. Then coated it with the last coat. Got three coats on it in a three day span. And then took a 1000 mile road trip to do some kayak fishing. Went through rain, bugs, and mud. On my way back home. I stopped and just washed it off. Bugs, mud, and road grim just rinsed right off with ease. This stuff is a must have! I have got my Dad and some coworkers hooked already. They love it too and are def impressed with this product! I have used the top coat as well. And it does a great job too. Although this stuff, in my opinion, is much better! It goes on with ease, lasts longer, and simply out performs the Top Coat! I highly recommend this product!
08/25/2020
Charles B.
United States
08/15/2020
Cole T.
United States
First application
Veh: 2020 RAV4 XLE Premium, cherry factory clear coat over Ruby metallic with gold flake. Purchased 7/29/2020. Took the time to do it right. Did the prep and application of 3 coats of Back ICE inside a clean shop. I took 6 hrs to accomplish this. Had an unexpected rain storm 48 hrs after applying the Black ICE which left residual water spotting covering all surfaces. This was removed with the first wash 9 days after application using the TLS and the clay mitt on Thursday this week. I followed with two coats of the TLC2, and two coats of AMP. It's as if the paint has "come alive". I treated the glass as well. The smoothness, finish, and gloss are spectacular. Thank you for a tremendous product!