Bare Slate Clay Mitt
$49.95
$34.95
(30% savings)
Bare Slate by The Last Coat is the highest performing clay mitt that money can buy.
It's "The Perfect Start for Getting the Ultimate Showroom Finish in Half the Time".
Bare Slate redefines the way you look at prepping a surface, and will change your approach on claying your vehicle. Bare Slate is a hybrid combination of the most advanced technology in polymer rubber, with the finest premium microfiber cloth.
This means that Bare Slate will safely and easily decontaminate your surface from dirt, dust, tree sap, bugs, pollutants, and even water spots. Bare Slate works great on vehicle paint, plastic, rubber molding, and especially glass!
It's extremely versatile in that it can be used with any traditional clay lubricant to provide an effortless glide, or using a high quality soap such as The Last Soap.
To clean Bare Slate, simply rinse it well under water, and it will perform as new each time you use it.


DIRECTIONS TO GET PROFESSIONAL RESULTS
Step 1: Thoroughly rinse your vehicle of making it free of dust, sand, and dirt.
Step 2: **Make sure to keep HIGH levels of lubrication at ALL times to avoid marring of the surface.** If using a traditional clay lubricant, apply clay lubricant to make the surface extremely slick and proceed to Step 3. However, if using a soap such as The Last Soap, begin washing the vehicle with either foam cannon or by using a wash bucket. With the surface still wet, clean out your wash bucket and add another 2-3 ounces of soap to approximately 1 gallon of water. Then, stick the clay mitt into the bucket so that it is fully wet, and proceed to Step 3.
Step 3: Lightly polish the surface of the vehicle with Bare Slate, applying light pressure, similar to how you would wash the vehicle. Ensure that Bare Slate and the vehicle surface stay wet and lubricated to avoid scratching and marring on the vehicle clear coat. Re-lubricate at minimum every 2' x 2' area. See more notes below.
"IMPORTANT: It bears repeating, make sure to keep VERY HIGH level of lubrication at ALL times using the Bare Slate Clay Mitt, with very light pressure, to avoid marring or residue on the surface. Do NOT use the same pressure as you would when washing. A little goes a long way here. Make sure to read all steps below:"

1) Thoroughly rinse the vehicle making it free of dust, sand, and dirt.
2) Use only on a clean and cool surface, out of direct sunlight if possible. Do NOT work on a surface over 144 degrees F. Be on the cautious side with temperature.
3) The Bare Slate Clay Mitt should be turned over and rinsed regularly to reduce the risk of removed contamination scratching the paintwork.
4) At a minimum, you should re-lubricate every 2' x 2' area of a panel. Be very generous on lubrication throughout the entire process. A good rule of thumb to err on the side of caution is 2-3 oz of soap to approximately 1 gallon of water.
5) When finished, rinse off/pressure wash off thoroughly when done, and store in a cool and dark place.
6) In the event of any residue, use 70% Isopropyl Alcohol on microfiber to remove it. But if you follow all precautions properly you should have no problems.
Customer Reviews
Write a Review
Ask a Question
Filter Reviews:
Clay Mitt
coat
shine
results
paint
vehicle
finish
truck
application
TLC2
10/19/2020
Rom
United States
So easy
Cannot believe how easy TLC is to apply and remove. So happy I was talked into buying by my father.
10/11/2020
James H.
United States
Excellent Product
I applied two coats of TLC2, and one coat of AMP to me A4. I also applied one coat of each to the windows. The shine is awesome, and the windows have a nice close appearance. I spilled some water on the roof, and it rolled of the entire car, just a few touches with a dry towel. The soap sprayer make the initial cleaning so easy. The car has a beautiful shine, and the whole process took a little over an hour. Used very little product. I highly recommend TLC, along with AMP. The soap sprayer makes it a lot easier, but a bucket would work good too. There microfiber towels are the best I have used.
10/05/2020
Robert L.
United States
Best Clay Experience
This is the absolute easiest way to get contamination off of your vehicle. You don't have to knead it or worry if you drop it. Just wet it and keep it well lubricated (I like to use the Last Soap) and use light pressure. What I really like is that backside is a soft microfiber cloth so I can use it to put extra soapy water on the surface and then flip over to the clay side. Super easy and works great. The perfect way to prep the car for an application of The Last Coat. Highly Recommended!!
09/28/2020
Frederick M.
United States
Clay Mitt
New to detailing I needed products that are of a high quality and are easy to use. This Mitt ( and all the other products I have purchased ) is very simple and durable. Thank you.
09/24/2020
Tim H.
United States
09/22/2020
Bill B.
United States
Three superior coats
I washed with The Last Soap and used The Last Coat on my wife's eight year old Porsche, my ten year old Dodge Ram and my new Toyota 4Runner. All came out wonderful although I am very much an amateur in detailing vehicles. Older vehicles look much like new except for some dents in the Ram. Was out with my friend who owns the Toyota dealership and he commented on how smooth the paint was on my 4Runner without knowing I used The Last Coat. I am a fan for life.
09/21/2020
Eric H.
United States
AF
09/20/2020
Adam F.
United States
Awesome products!!
I bought the Bare Slate, Last Coat 2.0, & CeraTrim. The Bare Slate worked fantastically removing all the contaminates off the finish, leaving a super smooth finish. After that, used the Last Coat 2.0. That stuff is amazing! It left a super slick & a deep finish on the paint. It also works great on glass & interior plastics- great stuff!!! The CeraTrim woke up all my faded plastic trim around the car. Also works great on tires too!! The best thing is that a little really goes a long way!! It does not take much product to achieve outstanding results!! For best results, I highly recommend to watch their videos for maximum results!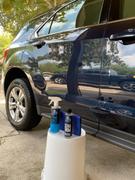 09/04/2020
Joe W.
United States
TLC2
It is incredible and I am so glad that I purchased it. Few people actually "enjoy" waxing their vehicle, but using this stuff actually makes it fun.
08/17/2020
Lawrence T.
United States
The best
great ill order more products soon thanks