The Last Soap - Wash, Detox, and Seal All in One
$59.99
$34.97
(41% savings)
What is "The Last Soap"?
From the team that brought you The Last Coat, now brings you the highest performing, most advanced, and simple to use car soap and shampoo available today.

We call it "The Last Soap" because it's the last car soap you'll ever want to use on your vehicle. Professional strength results while being incredibly simple and easy to use.

The Last Soap is infused with our popular TLC™ coating technology. This means that The Last Soap will wash, detox, seal AND revitalize the surface of any vehicle while also laying down a thin layer of our coating technology.

Now, before we get into some of the top reasons to use The Last Soap, we'd rather show you in the video below just how powerful this product is. Rarely will you see a soap actually provide hydrophobic coating protection, and rebuild a coating surface. Check out this short video and see for yourself:



Check Out How The Last Soap Helps Rebuild the Coating on This Vehicle:

Here are just a few of the reasons to use The Last Soap:


➡️ Extremely versatile. Can be used in a wash bucket or applied via foam cannon for big-time foam and fast application.


➡️ pH neutral, which means The Last Soap is gentle on any surface and coating, while also detoxing and lubricating your vehicles surface during use.


➡️ Detoxes your vehicles surface. This means The Last Soap gets in and cleans out the microscopic "pores" of your vehicles surface and of your TLC or ceramic coating layer. 


➡️ Extremely economical. Only 1-3 ounces are needed per wash, whether washing via wash bucket or foam cannon. You'll get 32 ounces of our concentrated formula per bottle. One bottle should last between 12-32 washes! 
➡️ Can be used as both a standalone maintenance soap or for detoxing your vehicle before and after coating with The Last Coat.


➡️Highly effective for preserving and rebuilding your application of The Last Coat. This will help enhance the durability of your TLC applications, saving you time and money.


➡️Helps extend the life of expensive, professionally installed ceramic coatings if you have those installed on your vehicle.


➡️Safe to use on vinyl wrapped vehicles, PPF clear bras, vinyl decals, and fiberglass surfaces such as boats and RVs.


➡️Works great on ALL exterior surfaces including chrome and glass!


Frequently Asked Questions 
We've received some great questions from our visitors and customers on how they can use 
The Last Soap
most effectively. Here are the most common questions, answered:
Question:
 What exactly is in The Last Soap? What makes it so special?
Answer:
 Now although we don't reveal the secret sauce in any of our products, the best way to explain what's inside of The Last Soap is by saying that it's been "infused" with TLC's coating technology. The Last Soap is a hybrid soap and shampoo that not only cleans and detoxes your vehicles surface, but it also lays down a thin layer of protective, hydrophobic coating. It is, of course, our preferred car soap to use on vehicles that have been treated with TLC.
Question:
 Can I use The Last Soap in direct sunlight?
Answer:
Yes, you can. Although it is often best to use a soap such as The Last Soap when not in direct sunlight, we know this isn't always possible. What's more important is that you fully rinse off your vehicle when you're done the washing.
Question:
 Can The Last Soap be used as a prep soap for TLC?
Answer:
 Yes, of course, that's what we do. Now, since The Last Soap is 
pH neutral
, it isn't caustic or acidic. So, if you have previous waxes or sealants that you want to strip your surface of before applying TLC (recommended), then you may consider using a more aggressive soap such as Dawn dish soap which many of our customers do. Alternatively, you can also strip the vehicle using an alcohol wash. Or, another option is to wash your vehicle with The Last Soap, and then also use another prep of The Last Soap as a clay mitt lubricant for our Bare Slate clay mitts. This will also help you strip the surface of previous compounds. 
Question:
How many washes will I get out of one 32 oz. bottle?
Answer:
 Whether using a foam cannon or wash buckets with The Last Soap, you should only need 1-3 ounces per wash. Go on the higher end if you like a lot of foam. So that means you will get anywhere between 10 and 30 washes per 32 ounce bottle.
Question:
 Can I wash my vehicle with The Last Soap without damaging my layer of TLC?
Answer:
The Last Soap was specifically designed for being pH neutral and gentle on your layers of TLC or on ceramic coated vehicles. But, even more impressive is that The Last Soap will actually help rebuild your TLC layer, as well as preserve and enhance it's hydrophobic and protective effects.
Question:
How long does it take to receive my package after ordering?
Answer:
Currently all shipments are being fulfilled within 24-36 hours, and customers typically receive their order within 3-5 business days in the United States.
Question:
Does The Last Soap work on all exterior surfaces such as chrome, glass, rims, etc?
Answer:
Yes! Absolutely. We use The Last Soap internally for all exterior surfaces. It does great on glass and chrome! 
Question:
 Can The Last Soap be used as a clay lubricant?
Answer:
 Yes. We use The Last Soap with our Bare Slate clay mitts all the time. Just make sure that the surface is very slick and hydrated before rubbing your clay mitt across it.
Question:
Does The Last Soap leave any streaking or residue?
Answer:
 No, applied correctly you should have no issue. The main thing to keep in mind is to make sure that The Last Soap is fully rinsed off after you wash, as should be done with any soap of course.
Question:
Can The Last Soap be applied to a car that has a ceramic coating on it?
Answer:
Yes absolutely. The Last Soap will help preserve and protect ceramic coated cars and is the ideal soap for TLC coated and ceramic coated vehicles.
Question:
Do you sell gallons or only the 32 oz bottles and bundles?
Answer:
 We don't sell gallons of The Last Soap at this time. However, we do have our "Buy 3 Get 1 Free" bundle on this page, which is effectively 1 gallon worth of The Last Soap at reduced pricing.
Question:
Does The Last Soap work on car wraps, vinyl wraps, etc.?
Answer:
Yes, The Last Soap is perfect for vinyl wraps, paint protection films (clear bra). The red BMW in our demo videos for The Last Soap is vinyl wrapped!
Question:
Is The Last Soap freezable or flammable?
Answer:
The Last Soap is non-flammable, so you're good there. However, when storing below 32°F/0°C, it may freeze. In other words, not advised to store outside during freezing temperatures.
Question:
 What's the lowest temperature I can apply The Last Soap in?
Answer:
 We recommend the temperature being above 40 degrees when applying The Last Soap. 
Question:
Do you offer a trial bottle or sample bottle of The Last Soap?
Answer:
 Nope, not at this time. :)
DIRECTIONS FOR GETTING PROFESSIONAL RESULTS:
As with all of our products, The Last Soap is super-simple to use. We recommend following the directions below to get the best results. 
With The Last Soap, 

always remember to SHAKE WELL

 before pouring The Last Soap into your foam cannon or wash bucket. This makes sure that the detox and the coating properties are blended even in your foam solution. Very important!



If Washing By Hand:

• Pour 1-3 ounces of The Last Soap into a 5-gallon wash bucket.

• Proceed to use water pressure to create suds.

• Then simply begin to wash the surface with our premium 400 GSM microfiber towels or synthetic wool wash mitt. 


If Washing With a Foam Cannon:

• When using a foam cannon such as the MTM HydroParts PF-22 Foam Cannon (our preferred foam cannon), then simply combine 1-3 ounces of The Last Soap with roughly 30 ounces of water in the foam cannon. Using a heavier concentration of The Last Soap will yield more foam production.

After washing, make sure that the vehicle is rinsed completely free of The Last Soap.

For best results after washing, make sure to apply The Last Coat to further protect, shine, and seal your vehicle, resulting in world-class head-turning shine that will last up to 6 months! 



Customer Reviews
Write a Review
Ask a Question
Filter Reviews:
shine
coat
The Last Coat
results
products
vehicles
SOAP
coating
PR
05/21/2020
Patrick R.
United States
"Gorgeous Landcruiser!"
I Did try The Last Coat the other day on my old 1976 FJ40 Landcruiser. The paint is oxidized and has many small/large scratches. I didn't notice the difference right after--but the next day it was sparkling in the morning sunlight. The red was deeper-richer and shining. In fact, I was under the hood when a guy in a pickup drove by and rolled down the window and yelled: "Gorgeous Landcruiser!" I immediately went and washed my wife's Volvo with The Last Coat...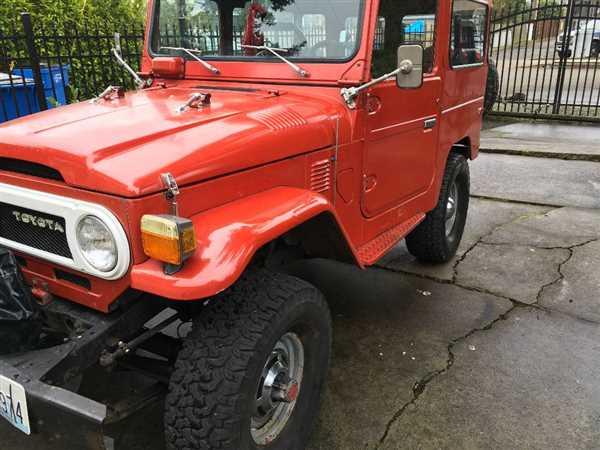 05/18/2020
Paul R.
United States
White Diamond Pearl Shine
The TLC products are proving to be all that and then some!! The results I have been getting are unlike anything I have used to date even the F-11, NexGen, Shine Armour and a bunch more that I have tried do not shine my automobiles with the glamorous shines I get with TLC. It simple, easy and rewarding. The compliments are constant and motivating to hear when I park my vehicle. And no matter what, we all like for others to salivate over our hard work and outstanding shining automobiles...it's bragging rights at best. It's what we do!!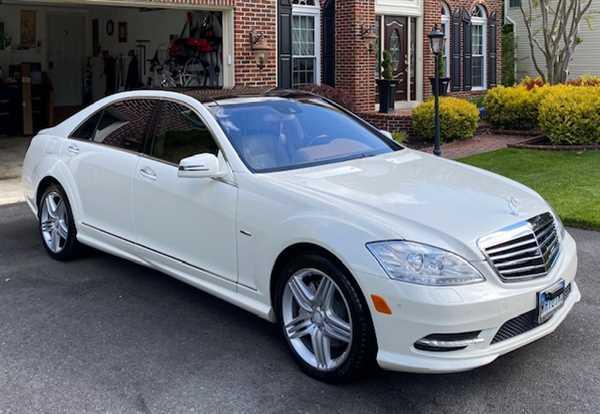 05/18/2020
Ron O.
United States
Impressive
I have a 10 year old Pro4-X and a 2019 MKX. Watched all the help videos and decided to try this product. Used the soap along with clay mitt, rinsed well and wiped it on. My 10 year old black truck looked as good as my new Car. I made certain they were both super clean and detoxed ... the product did the rest. Have not had it long enough to evaluate how well it holds up over time or weather. But as of right now HAPPY and 3 of my neighbors have placed orders
05/12/2020
Pedro G.
United States
The best soap I ever used
I live is a area where there is very little shade at anytime but love to maintain my car and always like to keep it looking good . Seen adds for many products and have tried a few but by far the last coat and the last soap best by far I was very impress with how well it went on and rinsed off , and the water beading I will continue to use the last coat and last soap for years to come getting ready to order my next shipment of last coat products this weekend. I wash my car once a week also but I can see the past coat and last soap is going to make it a foam cannon wash and rinse with a final wipe down with the last coat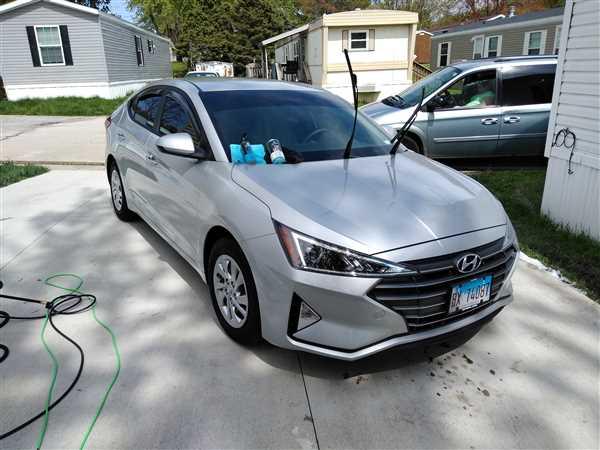 05/05/2020
Chris H.
United States
AMAZING!!! Everything it claims to be
TLC is absolutely as advertised. Super easy and fast to apply to your entire vehicle. I have a Tacoma, and for my first application I used the PF22 Foam Gun with the TLC soap to wash my truck, then used it again to apply the TLC 2.0 as well. Total time from start to finish was less than 45 minutes. Since applying TLC 2.0, it's rained several times and my truck still looks like it did after I washed it. The one clear day we've had between rain, I rinsed the truck off and applied the AMP just using the spray attachment provided with the bottle. Took maybe 15 minutes tops. I'll be using this stuff the rest of my life!
04/28/2020
Sean M.
United States
04/25/2020
tom c.
United States
2014 Cayman looks brand new!
After stripping any existing wax using dish soap I rinsed thoroughly, dried my 2014 Cayman, and applied The Last Coat using the sponge applicator I purchased with the product. The Last Coat went on easier than any wax or polish I've ever used. Doing one section at a time, I wiped the excess priory to off and buffed the finish using the terry cloth towels I bought with The Last Coat. The result is a 6 year old Cayman that looks like it just came off the showroom floor! I've never had a better or easier result in over 50 years of driving!
04/24/2020
Kerri Z.
United States
great products - glad I ordered for sure
I have always been a detailer by heart - since HS doing my 69 Impala(wish I still had that baby) to doing my parents and boyfriends cars and trucks - I love a clean shiney vehicle... so glad I tried the Last Coat line of products - boy have things come along way since i was in HS (1980's) Ieven worked in the cleanup department of a local car dealer in my late 20's - now i am a school bus driver but still like to do my "fleet" of vehicles at home from my hubby's 1995 farm pick up to the kids cars (black of course and on a gravel road) to my daily driver 2008 torrent.... They all get to be super easy after getting started with these products.. i have tried all kinds of these kinds of products and will staying with The Last Coat line from now on... even our old harleys look amazing!! (1989 & 1986)
04/24/2020
Charles R.
United States
Breaking necks
So I've been using TLC since 2018 and it's my go to paint protection product. Every time I apply the results are AMAZING.... and that was version 1 of TLC. When I learned that the original was upgraded it was pretty much a no brainer. It's easy to use and it lasts through real world conditions. So if this is for your daily driver or your Sunday's only driver I'd highly recommend this.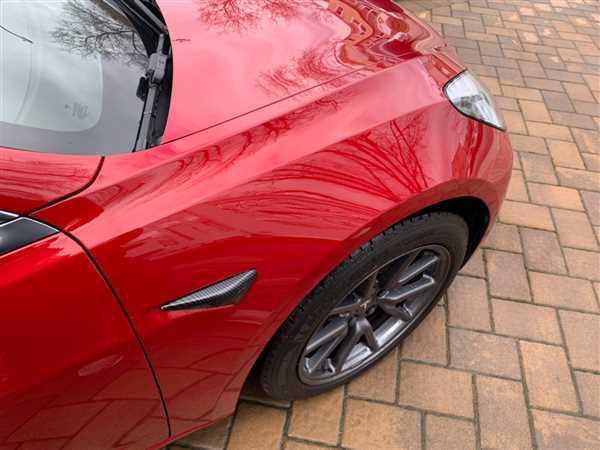 04/15/2020
Joe V.
United States