The Last Coat + The Last Soap - Combo Bundles
$149.95
$89.97
(40% savings)
These special bundle packs are the perfect way to stock up on the most powerful and easiest wash and shine combo in the industry.

With The Last Coat, you're getting the World's Highest Performing, INSTANT High Concentration Professional Surface Enhancer that Cleans, Shines, and Protects Within 60 seconds of Application Utilizing Built-In coating Technology.

And now, combined with The Last Soap, you'll have the World's most concentrated soap with TLC molecules infused into the solution. This will help enhance and rebuild on your TLC layers over time, and also give hydrophobic effects on its own!

Being detailers ourselves, we've field-tested The Last Coat and The Last Soap on tons of vehicles in real-world scenarios. We truly believe we've developed the most powerful combo of products of their kind. So much so, that we'll also give you a 365 Day Money Back Guarantee on your bundle purchase, so you can purchase with absolute confidence.


REAL People.
REAL

Results.

We've had tons of customers excited about the results they've received when using The Last Coat. Hear in their own words what they had to say:


Tom Brings His Daily Driver to Life with The Last Coat:
Paul Showcases His "Show Stopping" Camaro:
James "Wows" Us With This Reflection:
We Can't Believe Jons Volvo Has 323,000 Miles and Looks THIS Good:
Karlo Shows How The Last Coat Protects From Rain and Water:
David in Charlotte Showing Off His 2006 Toyota Tundra:
Veronica Shows Us How She Used The Last Coat As a Waterless Wash For Fast Results:
➡️ Click Here to Check Out All of Our Customer Reviews


➡️Helps extend the life of expensive, professionally installed ceramic coatings if you have those installed on your vehicle.


➡️Safe to use on vinyl wrapped vehicles, PPF clear bras, vinyl decals, and fiberglass surfaces such as boats and RVs.


➡️Works great on ALL exterior surfaces including chrome and glass!


Frequently Asked Questions 
We've received some great questions from our visitors and customers on how they can use 
The Last Soap
most effectively. Here are the most common questions, answered:
Question:
 What exactly is in The Last Soap? What makes it so special?
Answer:
 Now although we don't reveal the secret sauce in any of our products, the best way to explain what's inside of The Last Soap is by saying that it's been "infused" with TLC's coating technology. The Last Soap is a hybrid soap and shampoo that not only cleans and detoxes your vehicles surface, but it also lays down a thin layer of protective, hydrophobic coating. It is, of course, our preferred car soap to use on vehicles that have been treated with TLC.
Question:
 Can I use The Last Soap in direct sunlight?
Answer:
Yes, you can. Although it is often best to use a soap such as The Last Soap when not in direct sunlight, we know this isn't always possible. What's more important is that you fully rinse off your vehicle when you're done the washing.
Question:
 Can The Last Soap be used as a prep soap for TLC?
Answer:
 Yes, of course, that's what we do. Now, since The Last Soap is 
pH neutral
, it isn't caustic or acidic. So, if you have previous waxes or sealants that you want to strip your surface of before applying TLC (recommended), then you may consider using a more aggressive soap such as Dawn dish soap which many of our customers do. Alternatively, you can also strip the vehicle using an alcohol wash. Or, another option is to wash your vehicle with The Last Soap, and then also use another prep of The Last Soap as a clay mitt lubricant for our Bare Slate clay mitts. This will also help you strip the surface of previous compounds. 
Question:
How many washes will I get out of one 32 oz. bottle?
Answer:
 Whether using a foam cannon or wash buckets with The Last Soap, you should only need 1-3 ounces per wash. Go on the higher end if you like a lot of foam. So that means you will get anywhere between 10 and 30 washes per 32 ounce bottle.
Question:
 Can I wash my vehicle with The Last Soap without damaging my layer of TLC?
Answer:
The Last Soap was specifically designed for being pH neutral and gentle on your layers of TLC or on ceramic coated vehicles. But, even more impressive is that The Last Soap will actually help rebuild your TLC layer, as well as preserve and enhance it's hydrophobic and protective effects.
Question:
How long does it take to receive my package after ordering?
Answer:
Currently all shipments are being fulfilled within 24-36 hours, and customers typically receive their order within 3-5 business days in the United States.
Question:
Does The Last Soap work on all exterior surfaces such as chrome, glass, rims, etc?
Answer:
Yes! Absolutely. We use The Last Soap internally for all exterior surfaces. It does great on glass and chrome! 
Question:
 Can The Last Soap be used as a clay lubricant?
Answer:
 Yes. We use The Last Soap with our Bare Slate clay mitts all the time. Just make sure that the surface is very slick and hydrated before rubbing your clay mitt across it.
Question:
Does The Last Soap leave any streaking or residue?
Answer:
 No, applied correctly you should have no issue. The main thing to keep in mind is to make sure that The Last Soap is fully rinsed off after you wash, as should be done with any soap of course.
Question:
Can The Last Soap be applied to a car that has a ceramic coating on it?
Answer:
Yes absolutely. The Last Soap will help preserve and protect ceramic coated cars and is the ideal soap for TLC coated and ceramic coated vehicles.
Question:
Do you sell gallons or only the 32 oz bottles and bundles?
Answer:
 We don't sell gallons of The Last Soap at this time. However, we do have our "Buy 3 Get 1 Free" bundle on this page, which is effectively 1 gallon worth of The Last Soap at reduced pricing.
Question:
Does The Last Soap work on car wraps, vinyl wraps, etc.?
Answer:
Yes, The Last Soap is perfect for vinyl wraps, paint protection films (clear bra). The red BMW in our demo videos for The Last Soap is vinyl wrapped!
Question:
Is The Last Soap freezable or flammable?
Answer:
The Last Soap is non-flammable, so you're good there. However, when storing below 32°F/0°C, it may freeze. In other words, not advised to store outside during freezing temperatures.
Question:
 What's the lowest temperature I can apply The Last Soap in?
Answer:
 We recommend the temperature being above 40 degrees when applying The Last Soap. 
Question:
Do you offer a trial bottle or sample bottle of The Last Soap?
Answer:
 Nope, not at this time. :)
DIRECTIONS FOR GETTING PROFESSIONAL RESULTS:
As with all of our products, The Last Soap is super-simple to use. We recommend following the directions below to get the best results. 
With The Last Soap, 

always remember to SHAKE WELL

 before pouring The Last Soap into your foam cannon or wash bucket. This makes sure that the detox and the coating properties are blended even in your foam solution. Very important!



If Washing By Hand:

• Pour 1-3 ounces of The Last Soap into a 5-gallon wash bucket.

• Proceed to use water pressure to create suds.

• Then simply begin to wash the surface with our premium 400 GSM microfiber towels or synthetic wool wash mitt. 


If Washing With a Foam Cannon:

• When using a foam cannon such as the MTM HydroParts PF-22 Foam Cannon (our preferred foam cannon), then simply combine 1-3 ounces of The Last Soap with roughly 30 ounces of water in the foam cannon. Using a heavier concentration of The Last Soap will yield more foam production.

After washing, make sure that the vehicle is rinsed completely free of The Last Soap.

For best results after washing, make sure to apply The Last Coat to further protect, shine, and seal your vehicle, resulting in world-class head-turning shine that will last up to 6 months! 



Customer Reviews
Write a Review
Ask a Question
Filter Reviews:
truck
shine
coat
The Last Coat
results
vehicle
products
SOAP
05/05/2020
Terry P.
United States
04/29/2020
Parkman T.
United States
04/24/2020
David E.
United States
03/22/2020
Ricardo G.
United States
Amazing Product
After doing some extensive research and using a different product, I decided to go with The Last Coat. My purchase included the wash to help prep my car. I followed the directions and washed the car in preparation to apply the The Last Coat. Application was easy and my car looks amazing. I definitely noticed the difference between the previous product and The Last Coat after the next rainfall. The car repelled water and dirt much better than the previous product.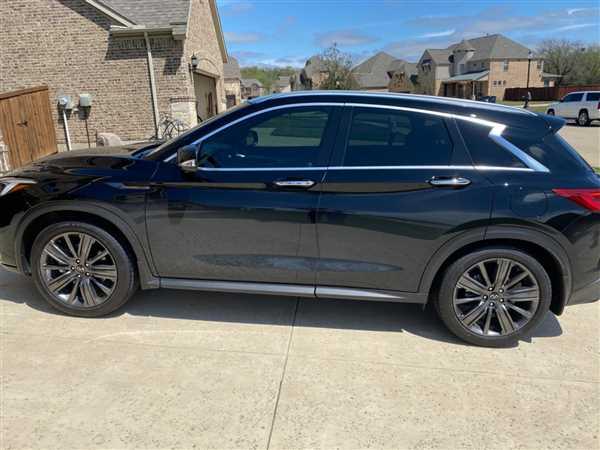 01/01/2020
Leonard J.
United States
12/04/2019
Fady D.
Australia
11/09/2019
Michael A.
United States
Pleasantly Surprised
I had low expectations of this product as how can something protect so well and be easy to apply. My package arrived ahead of schedule and relatively unscathed. One sprayer was broken but I didn't care because it came with two sprayers. I have a 65 Chevy C10 that I had recently painted and I wanted to protect the ballcap. I tried one small area and followed the directions and it was awesome! TLC applied with ease and buffed to an incredible shine! It worked so well, I used it for the glass on the windshield and did the intire interior! I was so impressed with this product that I tried it on my motorcycle that I commute on every day and it has performed like a charm! This has become my only product that I will protect my toys with! TLC turned a sceptic into a believer! Now I am showing all of my friends to get them on the bandwagon too!
11/05/2019
jon w.
Canada
The last coat in Canada
I purchased this product with high hopes and WOW I WAS EXTREMELY SUPRIZED !! I ordered online thru Facebook and delivery was fast and no issue , the product goes on easy and comes to a shine easy as well !!! After a few washes at the car wash it still has a great shine , winter here now and last nights snow just falls off LOL THANKS FOR THE GREAT PRODUCT JON
10/22/2019
Johnny P.
United States
Easy shine
I have always used paste wax and was hesitant to use a liquid that boasted wipe on wipe off. I decided to give it a go. I purchased The Last Soap infused with the last coat and two bottles of The Last Coat and buffing towels. I wasn't going to leave anything to chance and bought in to everything I needed to grade The Last Coat. I don't own a pressure washer so I used the Last Soap in a 5 gallon pail. Plenty of suds even that way. It was a learning curve for me in the amount of The Last Coat. My 2019 GMC Sierra with only 600 miles turned out to my surprise better than I expected. The dictionary needs to be updated when you look up slick it reads see The Last Coat. I'm really excited to use this again as I now know exactly how to apply and buff off to get even a better shine. If your like me and every other car enthusiast you just want stuff to work like it's advertised then The Last Coat is what you can use for money well spent. One other thing it truly is a wipe on and wipe off. If your able to hand was your vehicle then you can give your ride that just waxed look.
10/14/2019
Chuck W.
United States
In search of a new coat for the Metal Mistress (es)
I have used many different waxes and coatings from basic wax on and wax off method to strange silicon coatings from the 80's'. Even one of the original Clear-Bras from the first generation of wrap (a pain to remove). The bra did its' job but wasn't pretty and looked like helicopter tape. Glad to see the new generation functions and looks well, ya can't see it, as it should be... Took me three days to get the old style off. That said, there comes a time to coat the surfaces with something to protect the paint as I tend to hold on to my rides for decades. I found some of the new over the shelf coatings (ICE) producing a great finish. The problem, it wouldn't last and I followed other top coating that held up okay and looked even better.. Then I watched a couple of comparisons (you-tube) of the The Last Coat (TCM II) and how it stacked up against the competition and was curious enough to give it a try, especially with the price point and the using of a smaller amount to do the job done. Well, I wasn't disappointed and have found my new go-to for the what used to be a pain in the ***, wax job back in the day. Don't worry about not using enough, this stuff really stretches and is awesome at holding up to weather. With more cars than I need, I appreciate the time savings. Really helped me out with the blending of where a Clear-Bra used to be on the one vehicle and the rest of the hood. Especially the luster it brought out from the non-covered section of paint. This on a daily driver that is over 13 years old and with 109,000 miles in all kinds of weather, all over the Country. I am sold and glad I took the chance and have reason to believe the various comparisons on the product as right on. The product support is right up there as well, I feel like I am about to get on their Christmas Card list from all the follow-up they do...
Chuck, thanks a ton for that in depth review, we really appreciate it. Great to hear about the results you're getting!