The "Bulletproof" Bundle
$179.95
$99.97
(44% savings)
If you're looking to get a great price on getting the easiest and best shine for your ride, then The "Bulletproof" Bundle is for you.

The Bulletproof Bundle includes all of our coatings (The Last Coat, AMP, and The Last Coat Black Ice Ceramic Coating) in an affordable bundle that helps you get amazing results without breaking the bank.

These 3 products applied correctly and layered give your vehicle a suit of armor from the elements that is hard to beat with conventional products.


The Bulletproof Bundle comes with the following:


➡️ 1 - 16 oz. Bottle of The Last Coat (upgraded division). Our flagship product. The one that started it all. The World's most powerful DIY all-surface coating that lasts for 6 months with extreme durability and protection, leaving you with a hard mirror-like finish that turns heads.

➡️ 1 - 8 oz. KIT of The Last Coat Black Ice Ceramic Coating. The addition of The Last Coat Black Ice Ceramic Coating to this bundle really makes it special. When you purchase The Bulletproof bundle, you'll have our best coating products. We recommend 2-3 layers if possible. You can use The Last Coat and AMP as toppers and for routine maintenance. The addition of this product will give you even more durability and insane results in gloss, shine, and slickness for exterior surfaces. (make sure to follow the directions for The Last Coat Black Ice Ceramic Coating which can be found on this page by clicking here)
➡️ 1 - 16 oz. Bottle of AMP. AMP is our hybrid ceramic topper that is "the cherry on top". It helps amplify gloss and especially slickness and can be used as a diluted waterless wash, or quick detailer. Customers love AMP's ease of use and speed to work with. As with all of our products, a little goes a long way!

➡️
5 - Premium 400 GSM Microfiber Towels. Now with 400 GSM Microfiber, these towels have a thicker pile on one side, and thinner on the other, allowing you to use each side for different surfaces such as glass, exterior surfaces, leather, plastics, chrome, etc. Perfect for washing or applying The Last Coat. 

This is the best bundle option for those looking to grab our surface coatings for the best deal around. It doesn't get better than this for our coatings.



Customer Reviews
Write a Review
Ask a Question
Filter Reviews:
black ice
shine
coat
results
application
Cars
paint
truck
vehicles
TLC2
11/02/2020
George H.
United States
Black Ice amazing results!
Hello, this is the first time using Black Ice and I would say this product seriously delivers on its promise. I am absolutely blown away at how over the top smooth and shiny my cars paint is after using this! It's also worth stating I did take the time to properly prep my cars paint with this application and strongly suggest anyone investing in these products do the same. The results speak for themselves. My car looks better than it did brand new on the lot 5 months ago when I bought it! The only thing I can't speak to in my review is the duration of the hydrophobic properties lasting up to a year or a little over as I just used this for the first time this last weekend. Hopefully with my careful application that too will hold up, I'm anxious to see what happens!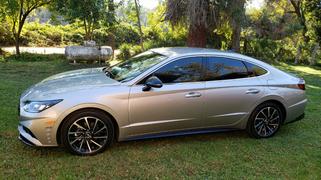 11/02/2020
Shawn P.
United States
Black Ice is the Best
I have used this product a couple of times and it is so awesome to use. The protection you receive from Black is Unreal. There are other products on the market that need to applied by a professional and will last longer, but for the price and the coverage you can not beat Black Ice.
10/31/2020
Kimon T.
Australia
10/24/2020
Gerald U.
United States
10/21/2020
Craig M.
Australia
Best on the market
Have only used the TLC and AMP but awesome product. Saving the black ice for my new rig.
10/07/2020
Jeff P.
United States
The Last Coat and Black Ice
I started using "The Last Coat" a year or so ago and have had excellent results. I tried "Black Ice" last weekend on my 2010 F150 Harley pickup. I can't believe the results, the truck looks better than new. Very happy!!
10/05/2020
Ingrid S.
United States
easy to apply
I mostly ordered the bundle to take advantage of the sale price. The product I was anxious to try was the Black Ice. I applied two coats to a Ram truck today after a one step polish. The results are amazing and at least the appearance is equal to the pro grade ceramic we have on our cars. It was very easy to apply and am waiting to see how it weathers here in MI over the winter. Also curious how it will hold up to automatic car washes, which many folks routinely use. I often use the Last Coat as a follow up to my hand washed, ceramic coated vehicles. A little goes a long way and very easy to apply.
09/29/2020
Rick H.
United States
Black Ice/AMP
I have been doing my own cars for many years and in that time have used numerous products over those years. I can honestly say that I have never had the results that were experienced with Black Ice. Applied two coats and could not believe that gloss! Simply fantastic. Waited a week and them applied the topper AMP. Both were easy applications with SUPERIOR results. I saw these used on Pan the Organizer youtube channel and wanted to see if the results were real. Yep, a believer for sure now! GREAT PRODUCTS! Will be using on all the vehicles I take care of.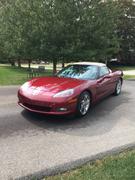 09/29/2020
Sam D.
United States
Great product
I have used many different automotive waxes and marine waxes during my 68 years of life, I have never found a coating that is as easy to use or that has performed better than last coat. I have waxed boats, cars and motorcycles, your product is great. Thank you last coat team!