The "Banger" Bundle
$164.95
$89.97
(45% savings)
Small yet powerful, The Banger Bundle brings you 3 of our most popular coating products, giving you full coverage of your vehicle across all surfaces in addition to the powerful trim restoration features of CeraTrim.


The Banger  Bundle comes in 2 options.
BOTH options come with the following:

➡️ 1 - 16 oz. Bottle of The Last Coat (upgraded division). Our flagship product. The one that started it all. The World's most powerful DIY all-surface coating that lasts for 6 months with extreme durability and protection, leaving you with a hard mirror-like finish that turns heads.

➡️ 1 - 8 oz. Bottle of CeraTrim. CeraTrim has been blowing people's minds with the results it gets on old and faded trim. CeraTrim uses our popular and effective ceramic technology to bond deep into the pores of plastic trim surfaces, removing the impurities that have built up in the plastic and effectively restoring them to their original appearance.

➡️ 1 - 16 oz. Bottle of AMP. AMP is our hybrid ceramic topper that is "the cherry on top". It helps amplify gloss and especially slickness and can be used as a diluted waterless wash, or quick detailer. Customers love AMP's ease of use and speed to work with. As with all of our products, a little goes a long way!
And our top-end option for The Banger Bundle also comes with the following:
➡️ 5 - Premium 400 GSM Microfiber Towels. These towels are highly refined and looped towels which makes them ultra-soft and perfect for polishing, final-touching, and buffing our coating products into your car, truck, marine, motorcycle, and home surfaces. Our professional-quality polyester/polyamide fabric is 100 times finer than a human hair. At over 90,000 microfibers per square inch, these are the only towels our pro detailers will trust for the delicate surfaces of exotic and luxury cars. Scratch-free, lint-free, and ultra-absorbent, each one of these towels will measure 16" x 16" across and are perfect for cars, boats, RV's, bikes, and home & electronic surfaces. These towels can be washed up to 500 times, and it is recommended to use scent-free/dye-free laundry detergent to wash them.
This bundle was one of our most requested bundles, so we're excited to bring it to you at reduced bundle pricing, giving you the ability to hit every surface of your vehicle quickly and easily.

Customer Reviews
Write a Review
Ask a Question
Filter Reviews:
shine
coat
plastic
work
home
glass
luster
order
Tacoma
daughters
09/12/2020
mark m.
United States
09/09/2020
Sandy C.
United States
Best product ever
Love it. So easy to use and the shine is amazing! Had a grasshopper try to hang onto the door and he slid right off.
08/23/2020
Ted C.
United States
So far, so good
I used TLC on my new black Outback Onyx, 10 year old Tacoma, and my Yamaha Venture touring bike. They all look great. I especially like how easy bugs clean off the bike fairing, very little effort. The black Outback stays clean even after driving home from work in a Thunderstorm. Can't go 5 stars until I see how long it lasts. So far, so good. We even used it on our motorcycle helmets. They really pop in the sun!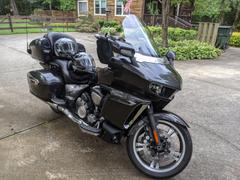 08/21/2020
William B.
United States
The Bomb
your product was outstanding! Easy to use, very durable, shines like new. I have a 2005 Toyota Camery that started to lose its luster after using your product it brought the clear coat almost back to that new paint look! While a little pricey at first this product held to your standard! I will highly recommend. 5 STARS Bill
08/15/2020
Edward R.
United States
Great
It was easy to use great shine I would recommend this product
08/15/2020
shawn w.
United States
Amazing
We purchased the last coat for our new truck and to help restore our 10 year old Jeep. The last coat made the new truck look amazing just like it looked when we first drove it home. The sealant has held up well we are getting ready to wash it again this weekend so we will see how much more we need to do to the truck. The Jeep has years of rock damage to the fender flares and nothing we used restored the fender flares. They were always seem faded. The last coat ceramic trim returned the fender flares and all the dark plastic back to black and has stayed black for weeks. Thank you!
08/09/2020
Aj B.
United States
Great!!!
Works just as advertised! Great!!!
08/06/2020
Stephen D.
United States
08/01/2020
Michael S.
United States
07/27/2020
Lance H.
United States
good product
all the items are easy to use and leave a lasting result. This is the third order of these products, they make my vehicles look like glass.