MTM HydroParts PF22 Foam Cannon + TLC Bottle Bundles (Various Package Options)
$99.97
$89.97
(10% savings)
The Last Coat (TLC) is proud to bring to you the very best in foam cannon technology available today. And, combined with the very best surface coating and protectant in the world, you will have the ultimate combo for cleaning and coating your ride in record time. 

Now introducing, The Last Coat Foam Cannon Bundles, featuring the highest-rated and most versatile foam cannon on the market today, the PF-22 by MTM HydroParts. The PF-22 creates a thick foam when using it for soaps, and applies TLC extremely fast when using it for coating application.
Before getting into some of the features and benefits of the PF-22 + TLC combo, check out this video which explains how we like to set up the PF-22 for success when using TLC. You'll also see just how little TLC is actually used when applying with the PF-22 when set up properly. And finally, you'll see Nick apply TLC across an entire Porsche GT4, in only 13 seconds. After rinsing and drying, you can have an average-sized car done 
well under
10 minutes!
Check out the video here:
The MTM HydroParts PF-22 Features the Following:
• New Two-Stage Nozzle Sprays up to
20 feet
!
• Adjustable Spray Pattern (horizontal or vertical)
• Adjustable Fan Blades (jet-wide)
• New Ergonomic easy-grip/easy-stand bottle
• Adjustable chemical injection knob
• Approved for auto, RV, marine detailing agriculture and home cleaning
The Innovation of the PF-22 Foam Cannon lies in the nozzle. The MTM Hydro Foam Cannon offers not only adjustable fan blades but now offers an adjustable spray pattern (vertically or horizontally) as it throws thick foam onto your vehicle, house, fence, sidewalk, roof or other washable items.

When utilized with The Last Coat™ (TLC), and set up according to the video above, the PF-22 becomes the fastest way to apply TLC to any vehicle. And done correctly, there is no waste of product since the PF-22 allows you to fine-tune the stream.

The chemical injection knob on top of the PF-22 allows for more or less chemical to be drawn through the internal chamber, increasing or decreasing the foam or TLC output. This allows the internal agitator to create a dense foam when using the PF-22 for soaps.

And now, with our partnership with MTM HydroParts, you can get combo packages of the PF-22 along with TLC, at drastic price discounts. Use the package selector above to check out our pricing. You'll notice that when you purchase the PF-22, you'll get big price breaks on bottles or gallons of The Last Coat™!

***Please Note: A pressure washer is required for using the PF-22, as seen in the video above. Home Depot and similar stores have several affordable options if you don't already have a pressure washer. We prefer gas-powered pressure washers, but the electric ones are ok too. They simply need to fall under these specifications:

• Minimum 1,100 PSI - Maximum 5000 PSI.
• Minimum 1.8 GPM (Gallons Per Minute) to Maximum 5.3 GPM
• Maximum 140 Degrees Fahrenheit
Currently, our supply of PF-22 Foam Cannon packages with reduced TLC pricing is limited. Order today to secure your package. All orders are shipped out USPS Priority, and every order of a PF-22 foam cannon or bundle comes with free shipping.



Proposition 65 Warning for California Consumers: This product can expose you to chemicals including Diisononyl phthalate (DINP) which is known to the State of California to cause cancer and Di(2-ethylhexyl)phthalate (DEHP), Lead which are known to the State of California to cause cancer and birth defects or other reproductive harm. For more information go to www.P65Warnings.ca.gov
Customer Reviews
Write a Review
Ask a Question
Filter Reviews:
shine
time
coat
The Last Coat
foam cannon
results
products
experience
SOAP
home
11/04/2019
Mike D.
United States
The last coat
It was easy to use and it became a mirror on wheels and 12 days later no wash and still a black mirror. My wife calls me taking her 2006 Mustang to the Spa. With the mite a pan and the last soap I was off 3.50 later I was done washing. WOW Now home and last coat easy to use and the mirror will be there for days n I do mean day
04/30/2019
Roger B.
United States
TLC on a 2017 Chevrolet Colorado
I. Still find it hard to believe the results with TLS and I was somewhat doubtful of the claims at first. That first spray and wipe was a real experience. I have never seen that kind of gloss and shine from anything I have used in the past and I think I have tried them all using buffers(Rupes). The results are out of this world and I have placed three more orders for your products. Thank you Roger Bernabee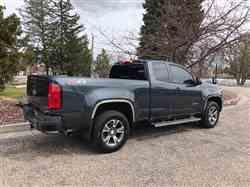 02/21/2019
Tim D.
United States
10/30/2018
Daryl W.
United States
F11 user
I was a dedicated F 11 user , after applying TLC to 2 of my vehicles 2013 GMC Denali & 2011 HD Street Glide I am impressed !!! The product went on smoothly and buffed out to a high gloss shine !
03/06/2020
Sean F.
United States
6
Very good service experience
03/01/2020
Ivan L.
United States
Foam cannon pandomania
I have never seen something that could make such a rich thick foam before. I even still had foam laying on ground 5-6 hrs later. Very impressive product and easy to use.
01/27/2020
Aaron
United States
Works Great
I have had no issues with this foam cannon and it makes nice dense foam. I have been using it with my 1700psi 1.2GPM electric power washer as it is just easier to get out and it still does a good job. The foam is a little watery but plenty good enough.
11/12/2019
Harold B.
United States
Foam cannon and TLC
Good morning I use a 60 40 mix of the last soap and TLC in my Foam cannon with excellent results Your product is the best Thanks Harold
10/20/2019
Andre M.
United States
Amazing Product! Works immediately!!
I have been using TLC for some time now and am blown away by the results. Having tried many different products, this is by far the best and longest lasting product there is! 10/10 recommend for everyone to try it out!