CeraTrim - Ceramic Powered Trim Restorer (8 oz.)
$44.95
$29.97
(33% savings)
*** Please Note: Due to very high demand of CeraTrim and bottle shortages caused by COVID, some CeraTrim orders may come in clear bottles instead of black. It is the exact same product though.***
Brought to you by The Last Coat comes our ultra-durable ceramic-based trim restorer, CeraTrim.

CeraTrim uses our popular and effective ceramic technology to bond deep into the pores of plastic trim surfaces, removing the impurities that have built up in the plastic and effectively restoring them to their original appearance. Check out the video below to learn more and to see how easy it is to apply and how much to use:



Unlike most trim products, CeraTrim is no mere dressing or stain. It is a true ceramic coating that will give your trim surfaces superior hydrophobic and self-cleaning properties and will protect your trim for the long haul under any driving conditions while restoring them to a newer appearance.

CeraTrim can be used on all trim pieces throughout your vehicle, inside and out. It can be used on engine bay plastics to restore their appearance.

We have also used CeraTrim as a durable tire dressing, but keep in mind this is an "off-label" use and requires 2-3 coats. (please note for interior pieces it will make them glossy, so if you prefer the matte look, best to avoid CeraTrim for the interior.)


CeraTrim can be layered to get an even higher shine or deeper wet look, and even more protection. It can be re-applied over time as desired as well.


All CeraTrim Kits Come with the Following:

➡️ 1 x 8 oz. Bottle of CeraTrim

➡️ 1 x Foam Applicator (this is our preferred way of applying as seen in our videos. We like the foam applicator provided as it allows us to push CeraTrim into the pores of the surface more effectively.)


Directions for Applying CeraTrim:

Step 1: Plastics and rubbers need to be as clean as possible before applying CeraTrim. Any prior dressings should be removed. You do not want anything affecting the bonding of CeraTrim to the trim surface. You will want to use a basic vehicle soap (no wax-based soaps), but in addition, you will need to use a degreaser or all-purpose cleaner (APC) and a soft bristle brush to agitate down into the texture of the plastic or rubber.

Step 2: With high-pressure water, thoroughly rinse the area ensuring to get full removal of any soaps or detergents.

Step 3: If the plastic or rubber doesn't become fully clean and bare, repeat the process until you achieve the deepest clean possible.

Step 4: Thoroughly dry the plastic or rubber and then apply CeraTrim with the included applicator.

Step 5: Allow it to dwell for 5-20 minutes (depending on how faded the surface is).

Step 6: IMPORTANT - DO NOT SKIP THIS STEP - After the dwell period take a dry microfiber towel and buff the trim surface to remove excess residue that will be sitting on top. This is very important.

Please Note: Full cure time for CeraTrim is 24 hours. Do not let these surfaces get wet in the first 24 hours after application.


We know you'll love CeraTrim as much as we do and as much as our customers have. It is a versatile, durable, true restoration product that will bring trim plastics and rubbers back to life in a big way, and keeping them looking that way for a long time! If you have any questions, feel free to reach out to us.


***Please note, applying CeraTrim can make surfaces very slick when wet, so when applying to running boards on your vehicle please keep this in mind as they may be quite slippery when wet.***



Proposition 65 Warning: This product contains Methanol which is on the Prop 65 List for Chemicals of Concern. For more information go to www.P65Warnings.ca.gov
Customer Reviews
Write a Review
Ask a Question
Filter Reviews:
trim
coat
results
stuff
truck
shine
plastic
application
Cera Trim
vehicle
Cera trim
It was easy to Apply and it looks great thank you
Top Coat
My parcel just arrived, great. My friend. who is a car detailer, took a day doing my car. I honestly couldn't believe the finished product, just amazing. As I can't expect him to do the car again I ordered the product and can't wait to get that beautiful shining clear finish again. What an incredible product, many thanks
Black Ice is amazing, not so sure about Ceratrim
My package arrived during a bright fall day, and I set about treating my three cars with Black Ice, followed on the Sunday by Amp. My cars look absolutely stunning. Then I set about using Ceratrim on the plastics... first impressions were pretty good, but overnight, the dew on the car caused it to bloom all over the surrounding paint, which required a cutting polish and machine to remove. I also used it on a few bits of my Harley, And found that even after 48 hours, it was still slightly tacky, and hadn't dried properly, meaning it picks up dust and dirt. I will try again next weekend, after having checked that I a, using it right, although I am not sure what I could be doing wrong. But the Black Ice, Amp and TLC2 are simply awesome.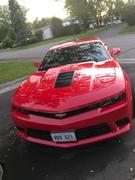 Didn't believe it was real. Then saw results
So this wierd thing happened. I had a weak moment and bought this product off the internet via Facebook. I had been watching and researching ceramic coating for vehicles for a bit. This one product caught my eye and in a weak moment I broke down and ordered it. Very skeptical, I awaited for it to clear customs and get to me. Then on a sunny day I thought I would give it a shot. Reviews were good, but are they all fake? Well son of a gun. This **** do work. I washed down the truck and stripped the wax off of it and went to work applying. Very easy to use. Damp a micro fibre towel, wipe on and then wipe off. I'm seeing metallic flake in my paint I didn't know I had. Truck looks brand new again. I liked the truck so much I did our trailer today. Didn't expect much with no clear coat but it actually has quite the shine. So truck and 29' RV on half a bottle. Dam. No the one true question remains, does it last and what will happen when it rains. I hear we will find out this week. Stay tuned.
TLC Is The Best!!
This product provides amazing shine and protection to the vehicle surface. I used to pay for paint sealant on all my vehicles. However, now that I have discovered TLC2, I can protect my vehicles myself and feel confident in knowing that my vehicles will look and feel "showroom new".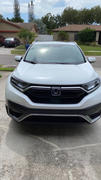 Better than expected
Cera Trim is a great product. Wipe it on , rub it in and wipe it off. Works great. It only takes a drop, or you will need to wipe off the excess. Very happy and highly recommend. It actually needs 2 of the applicator sponges.
Dancing in the moonlight !
I washed my wife's 2019 Nissan Altima the other evening and after drying it I noticed that the surface was not as smooth as it has been likely because I used laundry detergent during this wash to get the surface really clean again. The sun had already gone down and the daylight was fading fast as I used one of my application towels to apply the last coat to the finished. I am still amazed at how easy this stuff goes on then buffs off to a brilliant shine. I was finishing up as a full harvest moon was clearing the horizon and just to make sure I grabbed a soft towel out of my stash and wiped the finish down to make sure I had not missed any spots. We got out the next day and " Wow " I cannot believe the finish on my wife's car , it's mirror like in appearance. My wife loves it , so if she's happy , I'm happy even dancing in the moonlight applying the Last Coat to her car !!!!
CeraTrim
By far the best product I've used to make plastic and rubber look like new!!