AMP - Special One Time Offer - 10% Off Regular Price
$34.95
$17.95
(48% savings)
Customer Reviews
Write a Review
Ask a Question
Filter Reviews:
coat
results
application
shine
finish
Cars
reviews
videos
fact
nothing
11/16/2020
Tony D.
United States
First Time Use - Goes on Easy
This is my first time using this product. It goes on/off very easily. Leaves the paint shiny and slick. So far so good!
TZ
11/07/2020
Tom Z.
United States
11/06/2020
Ervin S.
United States
10/31/2020
Tony C.
Australia
The Last Coat - Upgraded
Excellent product Easy to use Great slick finish It does everything they say
09/26/2020
Richard S.
United States
The end of wax!
Over my many years and many cars, I have used just about every brand of wax. I was suspect of all the non wax coatings but the reviews of TLC were so positive I had to give it a try. After proper preparation, the application was easier than a quick detail. It's been three weeks and the car still looks great. Seem like dirt does not stick. The finish is as smooth and slick as the most expensive boutique waxes I have used, plus I love the fact that the car wash cleans and amplifies the finish. Great product!
09/14/2020
Abraham C.
United States
Great Look
I used the Last Coat a month or two ago and found it easy to use with excellent results. Purchasing AMP was even better. In fact, application for my SUV was less than 30 minutes from start to finish. My neighbors were so impressed that they purschased both items themselves. Excellent products.
08/31/2020
Terry G.
United States
Great shine
Surprising, our cars look better than new
08/27/2020
Ronald R.
United States
08/24/2020
David K.
United States
Amazing product and Easy to Use
I recently purchased 3 bottles of TLC2 with 2 towels and 1 bottle of AMP. I wanted to apply it to my new Carbon Black BMW X3 M40i just delivered. I watched all of your videos and read numerous reviews. I first washed with Carpro Reset as you did. Applied 2 coats of TLC2, 2 days apart for a outstanding smooth shine. I was so impressed I decided to apply it to my 2003 Anniversary Corvette Ruby Red with 11,500 miles. Same process, Carpro reset, then this time 1 coat TLC2 and 1 coat of AMP. You talk about a beautiful deep shine. In both cars the results magnificent and it really brings out the metal flake in the finish. Love the ease of application. I will admit I did use more of the TLC2 than you did, but there is a lot of body on a SUV. I included all the inner doors and inner trunk areas.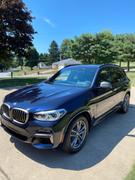 08/17/2020
summit T.
United States
Awesome TLC & AMP
Most products from infomercials , UTube or internet stink. TLC product line is for real leacing my automobile, cabinets and more with a smooth protective shine. By preparing the surfaces as per Nick's Utube an than applying TLC & Amp to all surfaces I got a shine and a smooth coating better than new! See attachment