Iron Off - Professional Iron Remover and Wheel Cleaner
$24.95
$17.95
(28% savings)
Brought to you by The Last Coat comes Iron Off, our heavy-duty professional-strength iron remover and wheel cleaner which can also be used to decontaminate painted surfaces, glass, and more. (Do not use on raw aluminum, Iron Off could etch it.)

Iron Off helps remove stubborn ferrous brake dust and iron from wheels and other surfaces.

You'll know Iron Off is working when you start to see the wheel surface "bleeding" a purple/red color, as it breaks down the iron to a water-soluble state.

Typical decontamination methods can have a tough time removing deeply embedded iron and other contaminants from the surface. Washing typically won't remove these.

Why You'll Love Iron Off:


➡️ Extend the life of your vehicle by stopping corrosive chemical reactions that lead to rust and permanent issues in your paint.


➡️ Even if you can't see it, oftentimes, contamination is there. Iron Off helps get rid of this contamination quickly and effortlessly.


➡️ It helps stop the damage that hot iron particles can do to your vehicle, preserving the life and value of your vehicle in the long run.


➡️ It helps neutralize corrosive reactions and when you see it beginning  "bleeding" purple, you'll know that Iron Off has begun the process of releasing embedded contaminants. 


➡️ Iron Off, like all of our products, is extremely easy to use. It gets you great results every time you use it and just gets the job done efficiently and effectively.

***Important: Keep in mind that Iron Off is strong, and it will degrade previously applied coatings to a degree. Even professionally installed ceramic coatings. So if you apply to paintwork or ceramic coated wheels, or surfaces that have been coated with any of our products, you will want to reapply those coatings after Iron Off has done its job.***



Directions for Using Iron Off:


1. First off know that Iron Off has a strong smell, so make sure to use it in a well-ventilated area. Then, shake the bottle very well then spray directly on to the surface. (Only do so in the shade when the wheel surface is cool to the touch). Spray directly on them when dirty. Pre-rinsing may dilute Iron Off when you spray it on the surface.



2. Let Iron Off dwell on the surface for 2-5 minutes. As Iron Off goes to work on ferrous brake dust and contaminants, it will turn a purple/red color as it breaks down the iron to a water-soluble state for easy removal (do NOT let Iron Off dry on the wheels/surface).

3. Rinse Clean with high-pressure water to remove all of Iron Off.

4. If wheels were extremely contaminated with brake dust to start, a follow-up hand wash with soap and water on the wheels is recommended to remove any leftover Iron Off.

5. Optional but recommended. Apply The Last Coat or Black Ice to protect. Finish off with a layer of AMP if desired. If you had our coatings applied before using Iron Off, then you will definitely want to reapply to the treated areas as the coatings will degrade slightly.

** It is recommended to spot test first before full application and use.




Safety Information:




• 
Avoid inhalation. Use adequate ventilation. Iron Off has a strong smell, you want to use it in a well-ventilated area.

• May be harmful if swallowed. May cause skin burns and eye damage. Make sure to wear protective equipment where needed. We recommend gloves.

KEEP OUT OF REACH OF CHILDREN

Customer Reviews
Write a Review
Ask a Question
Filter Reviews:
stuff
shipping
water
paint
difference
side
mind
wheels
area
price
07/05/2020
Gene P.
United States
Works great, does the job, cool to see the iron reaction!
Great performance out of this iron remover... I used at first on my wheels mainly and the difference was night and day. It works very well with minimal to no elbow grease needed. I've now used it on other parts of my vehicle and even after claying, Iron Off removed more contamination and iron specks. This stuff smells strong though... I wear gloves when using it. I would definitely recommend using it in a well ventilated area. As for the results, however, I was very pleased and surprised with how well it worked. Great work once again from the boys at The Last Coat.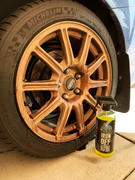 07/08/2020
ScottKirby
United States
Sweet stuff!
Amazing! Very good quality product. Removes rail-dust from white paint, like nobodies business. Fast and affordable shipping!
07/08/2020
Gary A.
United States
Wheel Shine
Great product to remove the stains on the wheel. No heavy scrubbing needed and wheels look like new
07/08/2020
Rick W.
United States
AMP
Was skeptical, but my wife got it for me as a birthday gift. WOW! Makes the Last Coat already on the car, look wet! Great addition to the line. Rick
07/01/2020
Jamie St.Andrews
United States
Iron off
It did what it said it would do so very happy
06/29/2020
Landon S.
United States
Wow!
I was very impressed with how well this works! My dad's Jeep had a caliper seize up and he neglected it for too long. It left brake dust which rusted (caked) on the wheels and all down the side on the paint! With the first applicant of Iron Off, it took off about 75% of it off! It was the worst I'd ever seen so this said a lot to me! Second application with a little elbow grease and it's all gone! Safe on the plastic wheel covers and on the body paint! Amazing stuff!
LR
06/28/2020
Lance R.
United States
Great product
This product is the cats meow. Looked like the wheels and side of my car was bleeding I had so much build up.
06/28/2020
Daniel
United States
Iron Off
Stuff is the real deal. Awesome wheel cleaner.
AD
06/25/2020
Alex D.
Canada
Does exactly what I want!
I was looking for an Iron remover for my Audi S3 and I kept coming across the same 2-3 makes that were too pricey and after shipping and exchange to CDN wasn't worth it. But then Here come TLC with this IRON OFF. at this price, I bought 2 bottles and still came out ahead! This thing smells, as advertised, but boy does it work. I just spray it on the rim and any surface that was prone for iron particles and you simply SEE the particles get pulled out and melt off the car. I will definitely be purchasing another 2-4 bottles of this. You've had my allegiance since TLC2 and The Last Soap, but with this, you have my affection, and my respect. The wheels are clean, the surfaces are decontaminated, and I trust it wholeheartedly! Thank you for this product; it's a game CHANGER!!