Black Ice (14-18 month protective coating)
$44.95
$29.97
(33% savings)
When we surveyed our pro detailing customers on what products would be most beneficial for them, a common theme kept coming up. Most of the guys wanted a protective coating that would last in the 18-month range, but that wasn't a pain to work with.

This is the coating detailers will want to have before the competition gets their hands on it. It's efficient, effective, clients will love the results, and it gets detailers a great ROI on coating services.

The Last Coat proudly brings you, by popular demand, Black Ice.

Black Ice is our new exterior-only coating which gives between 14-18 months of protection. Black Ice was formulated for our pro-detailer customers who wanted to offer longer-term coating services to their customers while generating a great ROI for every bottle they purchase. One bottle of Black Ice will put hundreds if not thousands of dollars into the pocket of the pro and mobile detailer.

Each purchase of Black Ice comes with the following:

• Either a 4 oz. or 8 oz. bottle of Black Ice, depending on the desired size. An average-sized vehicle takes under 1 oz. for one layer of Black Ice.
• A high-quality sponge applicator for applying Black Ice.

• One of our Premium 400 GSM Microfiber towels for buffing off.

*sponge applicator and microfiber towel should be discarded after all layers have been applied initially.

Black Ice is an extremely efficient coating. Meaning, an average-sized vehicle takes usually under 1 oz. to complete the exterior. Check out this video below to learn more about Black Ice and how to apply it:

Common Questions About Black Ice:

1) How is Black Ice different from The Last Coat (TLC2)?


This is probably our most common question. The Last Coat (TLC2) will likely be most people's go-to coating for all surfaces. Black Ice is for exterior surfaces only. So this means external painted surfaces, glass, vinyl, and matte surfaces.

Both products are extremely durable, but Black Ice tends to have more longevity lasting upwards of 18 months. Built off similar mesh technology as TLC2, Black Ice was formulated specifically for external surfaces only and for more longevity, primarily for detailers looking to offer longer-term coating services to their clients.

The longevity and focus on external surfaces are the main differences.

The cure time on Black Ice is longer, with full curing happening after 7 days, whereas TLC2 full cure is after 24 hours. Keep in mind the 7 day cure time is curing before washing, exposure to harsh chemicals, and before applying any toppers such as TLC2 or AMP if desired. After 24 hours, Black Ice can be exposed to normal driving conditions typically. With Black Ice, you tend to use even less than TLC2 (hard to believe, yes). An average-sized vehicle exterior can be done often with under 1 oz. per layer.

We also state that for best results with Black Ice, you will want to apply on a paint corrected surface free of swirls or scratches.

Lastly, Black Ice is best applied with the included applicator and then buffed off with the included microfiber towel. With Black Ice it is recommended to discard the towel and applicator after application.

2) Can Black Ice be used together with The Last Coat (TLC2) and/or AMP?
Yes, absolutely! Since Black Ice requires a paint corrected, swirl-free surface, after the polishing process (if required) you would apply Black Ice to be your durable base layer. You would then allow Black Ice to cure for 7 days before applying TLC2 or AMP. At that time, you can then apply TLC2 and AMP for regular maintenance to help preserve and rebuild on the Black Ice layer.


3) What surfaces can Black Ice be used on?
Black Ice can be used on most exterior surfaces including painted surfaces, matte and vinyl surfaces, denim surfaces, glass, fiberglass, gel-coat, as well as chrome. The surface should be cool to the touch when applying. 


4) Can Black Ice be applied in direct sunlight, and in what temperature ranges?

Ideally, you are not working in direct sunlight when applying Black Ice. But, if you must, it is important to work in small 2' x 2' areas when applying. It is best to apply in temperatures above 40 degrees Fahrenheit, and below 90 degrees if possible. All surfaces should ideally be cool to the touch when applying, especially glass and chrome. 


5) Can Black Ice be used to remove water spots from a surface?

No, the surface should be free of scratches, swirls, and water spots before applying Black Ice. 

6) Can Black Ice be applied to a vehicle that has a ceramic coating on it?

With the exception of high end, professionally installed ceramic coatings, Black Ice should be the base layer when using it. Typically, TLC2 will be best as a topper for a high-end ceramic coated vehicle.

7) Can Black Ice be used on interior and home surfaces?

No, we do not recommend applying Black Ice on vehicle interior or home surfaces. 

Full Prep and Application Instructions for Black Ice:

This video below goes through the entire prep process for Black Ice. You can also read the directions in text below the video:




For best results, and to get the most durability and longevity, you would want a scratch and swirl-free surface (a paint correction) ideally. And also a surface that is entirely clean and stripped free of waxes, polishes, solvents, and sealants (including TLC). Here's what we recommend:

Step One: Wash your vehicle.

Step Two: Decontaminate the paint surface with a clay mitt, clay bar or chemical removal.

Step Three: (if paint requires it, if not move on to step four). Compound/polish (paint correction)the paint surface to remove swirls, defects and bring the surface to a high gloss.

Step Four: Wipe down the vehicle with 70% isopropyl alcohol (IPA) on a microfiber and let the IPA air dry or use a surface prep cleaner. This will remove all waxes, polishing oils if used, and residue to ensure a clean surface.

Step Five: Using a microfiber applicator, spray 2-5 sprays (depending on panel) of BLACK ICE directly onto the applicator and then wipe on to paint surfaces in a hashtag type pattern. Then take a CLEAN microfiber towel to buff off BLACK ICE to an extremely high gloss, slick finish. For larger vehicles use a new buffing microfiber towel halfway through to ensure full removal. Full removal is very important. Discard towels/applicator after use.

Step Six: If additional layers are desired, wait 1 hour before applying the additional layer. Due to the minimal amounts used when applied, it is a great idea to do 2-3 layers of BLACK ICE.

IMPORTANT: Wait 24 hours before water contact and a full 7 days before washing with high-pressure water or soaps, or exposing to harsh chemicals. The full cure time is 7 days.

After 7 days TLC2 and/or AMP can be used to wipe down the vehicle after washing or to remove bird droppings, fingerprints, or to remove light dust. TLC2 will also add layers of protection on top of BLACK ICE and help preserve and rebuild it as well.
Customer Reviews
Write a Review
Ask a Question
Filter Reviews:
truck
shine
results
paint
bottle
purchase
coats
gloss
layers
black ice
03/15/2020
sam b.
United States
Black Ice
Ive already reviewed The Last Coat, so here's my review on Black Ice. I did 1 coat of black ice topped with 2 coats of The Last Coat, finished off with 1 coat of Amped. I can honestly say that the paint looks better than new along with the wheels. I still have plenty of product left for multiple applications. I will 100% purchase more in the future.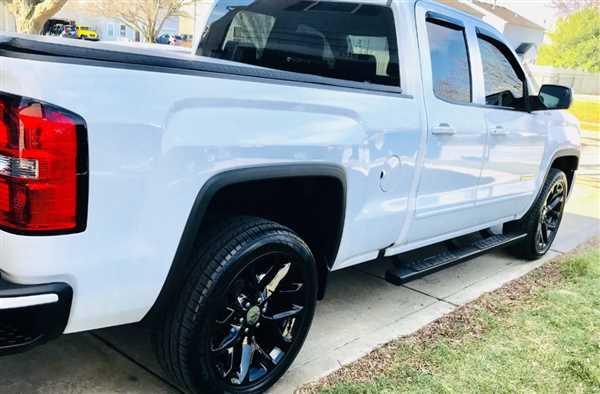 03/12/2020
Paul A.
Canada
Black Ice Application
First time using this product. I would say preparation is the key I used TLC shampoo and it was extremely sudsy. The clay mitt was also very easy to use. I did 3 layers of the Black ice on my Honda Ridgeline truck. I used 2.5 to 3 oz of the product, slightly more than it suggested i would. The truck though looks amazing . Great product and would totally recommend to friends & family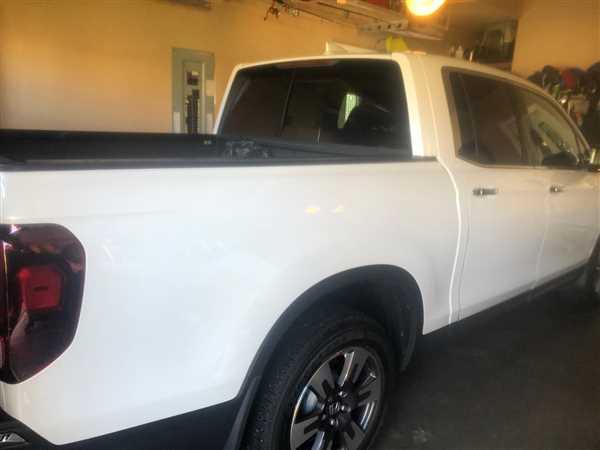 03/02/2020
ARTHUR S.
United States
01/28/2020
Chris R.
United States
Black Ice
I've been using @thelastcoat products for over a year now.. I've tried everything else out there and nothing can compete with TLC.. I just got a chance to try out Black ice, and let me say the results are absolutely amazing!!! Super easy product to apply, insane gloss and shine, and only used about 1 ounce of product after applying two coats.. just when you thought TLC could get any better they dropped a bomb on this one.. If you haven't tried TLC products yet, do yourself a favor and get on board with absoluty the best detailing products available!!!!!!!!!!!
03/23/2020
Lance H.
United States
amp
This is a great product, rinsed off the truck then used this product. Truck paint is shinny, slick and has a deep look to it. Easy to use product with good results.
03/23/2020
Lance H.
United States
amp
This is a great product, rinsed off the truck then used this product. Truck paint is shinny, slick and has a deep look to it. Easy to use product with good results.
03/23/2020
Rob C.
United States
Unbelievable product!
Easy to use and easy to maintain!0
03/19/2020
Edder V.
United States
Black Ice
THE QUICKEST, EASY-TO-USE SYSTEM EVER!
03/19/2020
Marco B.
Australia
Love it
In Australia we are coming out of summer and just had our frist heavy rain and roads are covered with road grime and oil it was buckting down on the way home form work to my surprise when I woke in the morning to see my car is in the same condition as it was when I first polished it I was absolutely blown away usually it would filthy this time of year well done guys first time in 45 years of owning a car you have a friend for life. PS don't sell your business to the first person who hands you a big check your on a winner Marco
03/03/2020
PABLO L.
United States
A winning solution
The market is full of products claiming to provide the best protection for your car paint. Many of them fall short delivering protection that lasts, easy of application and great results. The Last Coat does all of this at an affordable price. For me it is a winning product.