The Last Coat: Premium 400 GSM Premium Microfiber Towels (various quantity options)
$19.95
$14.97
(24% savings)
**Select Your Microfiber Towel Pack Option from the Quantity Pull Down Selector.**

**Quantity of specific colors will vary due to current inventory. All towels are 400 GSM Premium, dual pile. These towels have a stitched edge. Edgeless are currently out of stock and will be available at a later date.**

The Last Coat (TLC)'s Microfiber towels are highly refined and looped towels which makes them ultra-soft and perfect for polishing, final-touching, and buffing The Last Coat into your car, truck, marine, motorcycle, and home surfaces.

Now with 400 GSM Microfiber, these towels have a thicker pile on one side, and thinner on the other, allowing you to use each side for different surfaces such as glass, exterior surfaces, leather, plastics, chrome, etc.
Absolutely no rough edges, tags, or coarse fibers that feel more like a rag than something you would want to put on the vehicle you care about. We didn't skimp on these microfibers and they are the exact same ones used by the professional detailers that formulated and developed The Last Coat.

Our professional quality polyester/polyamide fabric is 100 times finer than a human hair. At over 90,000 microfibers per square inch, these are the only towels our pro detailers will trust for the delicate surfaces of exotic and luxury cars. Scratch-free, lint-free, and ultra absorbent, each one of these towels will measure 16" x 16" across and are perfect for cars, boats, RV's, bikes, and home & electronic surfaces. These towels can be washed up to 500 times, and it is recommended to use scent free/dye free laundry detergent to wash them.

Some popular brands are claiming their microfiber towels are the softest and most luxurious on the market but make no mistake, they won't stack up to the true professional use that The Last Coat microfiber towels are put through.
Customer Reviews
Write a Review
Ask a Question
Filter Reviews:
truck
shine
coat
stuff
Cars
results
towels
vehicles
microfiber towels
TLC2
07/15/2020
Jeffrey N.
United States
07/13/2020
Paul W.
United States
2017 Lexus
It was very user friendly I was surprised how easy Black went on and wiped off I did a 4 step system on prepping I was the car to get old sealant off then I did a iron remover then I Clayed the whole car then polished the car. Then I sprayed pant prep on to get the residue off. Then use Nlack ice I did 3 coats. I will let it sit for 24 hours next week I will wash it and put last coat and and then Amp. I am excited to see how it will look then. I have some attached pictures.
07/05/2020
Michael F.
Australia
Pop Blue
I was amazed the turn out of my car was excellent!! the coat I was using as follows: The Black Ice Ceramic and finished off with the AMP that brings out the shininess and apparent smoothness of a surface of the Blue paint colour of my car. I am happy with this product and will highly recommend to all my friends.
07/02/2020
Mike K.
United States
Awesome products
I ordered The Last Coat kit that contained the soap, TLC, and Amp. While waiting for delivery I watched the very well done videos on using each product. Each worked exactly as advertised. I used them on my new 2020 Explorer and it looks incredible. I have never had a car with the surface that slick and glass like shine...and it was all unbelievably effortless. It is amazing what TLC did for the interior. Ability to use 1 product on so many different materials is priceless.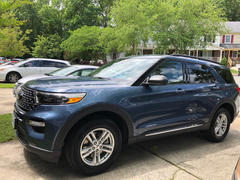 06/28/2020
Austin C.
United States
06/26/2020
Bruce B.
United States
Weeks later
The Last Coat is truly great. Two weeks later I did a quick rince and 90% of the durt and dust just flowed off. I live a block from a train station so that says a lot. The water beaded and rolled down taking so much with it in soil I was blown away.
06/23/2020
Jonathan J.
United States
06/23/2020
Daniel H.
United States
06/06/2020
Brett H.
United States
Easy Shine
Weekend Warrior Package Followed the video instructions from the website. The TLC and Amp were easy to use. I could immediately see the results and feel a huge difference in the paint. It's better than any other wax I've ever used. Even better, my next wash was super easy and much quicker. Bugs and debris basically hoses off the finish. Worth the time and money. I'm expecting to be able to get at least 20 applications from the package.
05/28/2020
CHAD I.
United States