The "Tuner" Bundle
$174.95
$99.97
(42% savings)
High performance at an affordable price, The Tuner Bundle brings you 3 of our most popular products with the added benefit of a start to finish experience. From washing to coating to restoring trim, this bundle is a great value to have a little bit of everything.


The Tuner  Bundle comes in 2 options.
BOTH options come with the following:

➡️ 1 - 16 oz. Bottle of The Last Coat (upgraded division). Our flagship product. The one that started it all. The World's most powerful DIY all-surface coating that lasts for 6 months with extreme durability and protection, leaving you with a hard mirror-like finish that turns heads.

➡️ 1 - 8 oz. Bottle of CeraTrim. CeraTrim has been blowing people's minds with the results it gets on old and faded trim. CeraTrim uses our popular and effective ceramic technology to bond deep into the pores of plastic trim surfaces, removing the impurities that have built up in the plastic and effectively restoring them to their original appearance.

➡️ 1 - 32 oz. Bottle of The Last Soap. This is the soap we use internally 7 days a week. Infused with our TLC coating technology, The Last Soap will detox, wash, and seal your vehicle's surface all in one simple to use and versatile solution. Only needing between 1-3 ounces per wash for thick foam and added coating maintenance.

And our top-end option for The Tuner Bundle also comes with the following:
➡️ 5 - Premium 400 GSM Microfiber Towels. These towels are highly refined and looped towels which makes them ultra-soft and perfect for polishing, final-touching, and buffing our coating products into your car, truck, marine, motorcycle, and home surfaces. Our professional-quality polyester/polyamide fabric is 100 times finer than a human hair. At over 90,000 microfibers per square inch, these are the only towels our pro detailers will trust for the delicate surfaces of exotic and luxury cars. Scratch-free, lint-free, and ultra-absorbent, each one of these towels will measure 16" x 16" across and are perfect for cars, boats, RV's, bikes, and home & electronic surfaces. These towels can be washed up to 500 times, and it is recommended to use scent-free/dye-free laundry detergent to wash them.
Another one of our most requested bundles, The Tuner Bundle is a great option if you're looking to clean, shine, protect, AND restore!

Customer Reviews
Write a Review
Ask a Question
Filter Reviews:
truck
time
coat
stuff
results
Last Coat
application
ease
hands
weather
08/08/2020
Kevin D.
United States
Truly AMAZING!!
I have used many products over the years. This stuff by far wins hands down!! Such a slick protective surface is created by the simplest way of application. Spray and wipe!!
08/04/2020
Frank M.
United States
Better than premium wax.
Although I was only able to apply one coat due to the weather the results were exceptional. The Last Coat is slicker than the most expensive wax I've tried. I use my truck to survey in very dusty and muddy conditions which usually entails hard washing. The Last Coat makes easy, mud and dirt wash off with the use of a garden hose.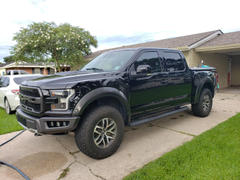 08/04/2020
Rhonda L.
United States
Great shine
The first time I used the Last Coat, the car shined. Because it shined, I decided to polish my car three weeks later. This time I was even more impressed. I have become an addict. All three cars have been polished two times. I am a 70 year old lady and really like the ease to apply the Last Coat.