Bare Slate Clay Mitt
$49.95
$34.95
(30% savings)
Bare Slate by The Last Coat is the highest performing clay mitt that money can buy.
It's "The Perfect Start for Getting the Ultimate Showroom Finish in Half the Time".
Bare Slate redefines the way you look at prepping a surface, and will change your approach on claying your vehicle. Bare Slate is a hybrid combination of the most advanced technology in polymer rubber, with the finest premium microfiber cloth.
This means that Bare Slate will safely and easily decontaminate your surface from dirt, dust, tree sap, bugs, pollutants, and even water spots. Bare Slate works great on vehicle paint, plastic, rubber molding, and especially glass!
It's extremely versatile in that it can be used with any traditional clay lubricant to provide an effortless glide, or using a high quality soap such as The Last Soap.
To clean Bare Slate, simply rinse it well under water, and it will perform as new each time you use it.


DIRECTIONS TO GET PROFESSIONAL RESULTS
Step 1: Thoroughly rinse your vehicle of making it free of dust, sand, and dirt.
Step 2: **Make sure to keep HIGH levels of lubrication at ALL times to avoid marring of the surface.** If using a traditional clay lubricant, apply clay lubricant to make the surface extremely slick and proceed to Step 3. However, if using a soap such as The Last Soap, begin washing the vehicle with either foam cannon or by using a wash bucket. With the surface still wet, clean out your wash bucket and add another 2-3 ounces of soap to approximately 1 gallon of water. Then, stick the clay mitt into the bucket so that it is fully wet, and proceed to Step 3.
Step 3: Lightly polish the surface of the vehicle with Bare Slate, applying light pressure, similar to how you would wash the vehicle. Ensure that Bare Slate and the vehicle surface stay wet and lubricated to avoid scratching and marring on the vehicle clear coat. Re-lubricate at minimum every 2' x 2' area. See more notes below.
"IMPORTANT: It bears repeating, make sure to keep VERY HIGH level of lubrication at ALL times using the Bare Slate Clay Mitt, with very light pressure, to avoid marring or residue on the surface. Do NOT use the same pressure as you would when washing. A little goes a long way here. Make sure to read all steps below:"

1) Thoroughly rinse the vehicle making it free of dust, sand, and dirt.
2) Use only on a clean and cool surface, out of direct sunlight if possible. Do NOT work on a surface over 144 degrees F. Be on the cautious side with temperature.
3) The Bare Slate Clay Mitt should be turned over and rinsed regularly to reduce the risk of removed contamination scratching the paintwork.
4) At a minimum, you should re-lubricate every 2' x 2' area of a panel. Be very generous on lubrication throughout the entire process. A good rule of thumb to err on the side of caution is 2-3 oz of soap to approximately 1 gallon of water.
5) When finished, rinse off/pressure wash off thoroughly when done, and store in a cool and dark place.
6) In the event of any residue, use 70% Isopropyl Alcohol on microfiber to remove it. But if you follow all precautions properly you should have no problems.
Customer Reviews
Write a Review
Ask a Question
Filter Reviews:
truck
shine
finish
coat
results
vehicle
paint
application
instructions
clay bar
07/07/2020
Christopher H.
United States
TLC first timer is impressed
I purchased the "The Last" Soap, Clay mitt, Coat and a bunch of microfiber towels. I watched the videos, followed the instructions and for after it. The full Monty, wash, clay all surfaces (exceptional on glass is true), IPA and TLC2. Its hard to believe but when applying TLC2 less is more. If your towel is dragging you applied too much product. Once in the groove, the application was easier and so rewarding. Glass, chrome, and paint look amazing. Maybe I used an ounce..maybe for the entire truck. Happy customer thus far!!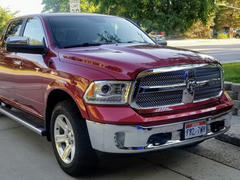 07/03/2020
Brian S.
United States
06/17/2020
Chris C.
United States
Black ice
Black ice Love the product did a great job on my 2020 4runner
06/13/2020
deb p.
United States
06/07/2020
Dennis K.
United States
Great product! Incredible shine and protection!
I'm a 1st time user of the new last coat 2.0 and love this product! Easy to apply and cant get enough of that shine and protection on my 2020 Toyota Camry SE after applying this product. Water just beads up and rolls right off! If you care about your car then you need this!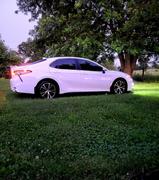 Outstanding Results!!
I've been using almost all The Last Coat products for about 6 months now. Absolutely every product I've used has exceeded my expectations! I recently was able to use the Bare Slate clay bar mitt while cleaning my 2019 Toyota Tacoma TRD-Off-Road. The ease of this mitt is unbelievable! I'm used to the traditional clay bar which is very time consuming. After a wash with the Last Soap I used the soap and water to clean the contamination off the paint surface with the Bare Slate clay bar mitt. I finished off with 2 coats of my favorite TLC2 and a coat of Amp-Mirror like finish-. The results are stunning. I've been detailing my cars for 25 years and these products are superior to everything else on the market with ease of use, results, longevity, and excellent customer service! I will only use The Last Coat products now. Do yourself a favor and try these products, you will not be disappointed, I guarantee it!
05/30/2020
Anthony I.
United States
04/17/2020
James J.
United States
The Last Coat...TOP NOTCH!
I've been detailing for 40yrs and restoring cars, trucks, bikes for 30yrs. I've seen and used my share of products and from what I've experienced using TLC2, AMP, Black Ice and their clay mitt...it takes little effort, but you'd never know it from the final results! Others always ask me what I use on my personal rides, recently on a 600 mile trip I was again asked at the gas station (as rain n sleet poured down), my Raptor looked like I just washed it! I told the gentleman TLC2, 2 coats, followed by AMP. Honestly I only used the wipers a couple of times. I could go on, but to truly experience the head turning and stares, try it yourself. My next 2 vehicles to do are my black SHO Taurus and my baby, a '96 Mystic Cobra. The blue flame Raptor popped big time! I can't imagine what the black on the SHO and the flip flop chameleon will do! I'll save my "old" products for my ATV lol. Nothing but The Last Coat will ever touch my rides
03/14/2020
Garrett M.
United States
Truly the "last coat" you will ever need!!
After using "The Last Soap" with the clay mitt, I coated my car with "The Last Coat v2" followed my "Amp" and my car looks better than showroom quality!! The shine, the mirror like finish, the smoothness is like nothing I ever seen or used before. You will not be disappointed!!!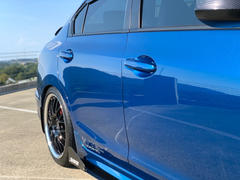 03/10/2020
greg y.
Australia