The Last Coat - Upgraded Formula (TLC2)
$59.95
$34.97
(41% savings)
We've stepped it up. We've taken our most popular formula, The Last Coat, and beefed it up in every way.
More shine, more slickness, more hydrophobic properties... but especially, more durability.
But instead of telling you about the durability, we figured we should just show you. This is a start to finish, 24 hour cure time torture test that we did between the upgraded version of The Last Coat, and some other popular sealants on the market:
And just how easy is it to get exceptional results, and just how much is needed to be used? Well, in this video here, Nick shows how simple it is to apply TLC2 to a vehicle, and most importantly how little is needed to be used:
Now, you most likely aren't going to be driving through a storm of degreaser and acidic chemicals, but there is no way around the fact that your vehicle takes a beating.
UV rays, road salt, magnesium, chemicals from overspray and harsh soaps, it's best to think of The Last Coat's latest upgrade as an insurance policy for your vehicle's surface.
What's the Science Behind TLC2 That Makes it So Different?
The science behind our upgraded version of The Last Coat is very unique in the industry. There are lots of durable products, but the challenge was finding the formula that allowed the same versatility and ease of use as our original formula, but with much stronger durability and hardness.
We've taken the best properties of true ceramic coating products along with our original formulation, and combined them into a microemulsion formula.
All this means is that the "mesh knitting" of the formula is so tight that once bonded and fully cured, it makes it much more difficult for chemicals and road debris to get in and "uproot" the coating.
It has a mild positive charge which means it adheres to all surfaces including bare metal surfaces. It is more likely to repel dust than before. You also benefit from a lowered surface tension to bead water (so tighter beads and less chance for serious baked in water spots).
And What This Means for YOU...
At the end of the day, what this means for you is less is needed, less residue, more durability, and more ease of use than ever before.
So if you want to detail your car so it's 100% Money-Back guaranteed to be shiny, smooth and spotless on the
first
application…
without
having to spend hours on end sweating out in the sun… and
without
having to worry about how one week later, the car looks like it hasn't even been washed in weeks… then our latest formulation of The Last Coat is going to make you very pleased, to say the least:
➡️ The Most Versatile & Durable "All In One" Easy to Use, DIY Coating Available Today
➡️ Goes on Easy, and Wipes Off Even
Easier, 
No Matter the Age or Shape You're In.
➡️ Easiest Coating You'll Ever Use - Guaranteed.


➡️ Protection and Coating Last Up to
6 Months
!
➡️ 
Extremely
hydrophobic and UV protectant
➡️ Smooth,
Glass-Like
Feel in Seconds Even on
First
Application.
➡️ Gives Surfaces a
Deep
and Glossy Appearance.
➡️ Leaves No Streaking, and No Residue.
➡️ Keeps Surfaces Cleaner
Longer
- Makes Future Cleanings a Breeze
➡️
Protects
your vehicle from water, dirt, salt, UV rays, and more.
➡️ Bonds and Sets within 7 Minutes, No Long Curing Times Needed.
(for maximum durability against crazy chemical testing, give it 24 hours)
.
➡️ Can Be Layered within 10 Minutes for Enhanced Protection and Depth of Shine.
➡️ An Average Sized Car Takes Only 1-2 Ounces for Full Coverage!
➡️ Based on the Latest Breakthroughs in sprayable ceramic technology.
➡️ Works on paint, chrome, glass, plastics, leather, vinyl, stainless steel, and more!


➡️ 100% Made in the USA!


➡️ 
 365 Day Money Back Guarantee

Being detailers and DIY'ers ourselves, we've already proven and field-tested The Last Coat on thousands of cars, trucks, and motorcycles that have driven in all kinds of weather conditions.

We truly believe we've developed the most powerful product of it's kind.

So much so, that we'll also give you a 365 Day Money Back Guarantee on your purchase, so you can purchase with absolute confidence.

REAL People.
REAL

Results.

We've had tons of customers excited about the results they've received when using The Last Coat. Hear in their own words what they had to say:


Tom Brings His Daily Driver to Life with The Last Coat:
Paul Showcases His "Show Stopping" Camaro:
James "Wows" Us With This Reflection:
We Can't Believe Jons Volvo Has 323,000 Miles and Looks THIS Good:
Karlo Shows How The Last Coat Protects From Rain and Water:
David in Charlotte Showing Off His 2006 Toyota Tundra:
Veronica Shows Us How She Used The Last Coat As a Waterless Wash For Fast Results:
➡️ Click Here to Check Out All of Our Customer Reviews


In a fraction of the time of traditional products, you can get a showroom shine, every time, guaranteed - when using The Last Coat!

If you have more questions, make sure to read our Frequently Asked Questions, and also check out our Video Demonstrations to see all the different surfaces and uses for The Last Coat, the World's most versatile and highest performing surface protectant and sealant with built-in coating technology!


Customer Reviews
Write a Review
Ask a Question
Filter Reviews:
shine
coat
results
truck
vehicles
stuff
application
The Last Coat
paint
finish
5 stars for it all
So, I am skeptical about any Facebook, Instagram, or website ads. Recently I've been debating on ceramic coating style protection for vehicles. I've seen a lot of different reviews and products that are much easier to put on a car versus traditional paste wax. I clicked the add, received 20% off from signing up to emails, and then my order came. I put it on my truck just like I would a quick detailed after a wash. Lord have mercy it shines like a diamond in the rough and it's been two weeks. There's three days of driving in the rain and it's still beautiful! The beads from water are mesmerizing!! 10/10 would buy it again; however, I bought two bottles so I am set for a long time.
So far so good
I bought a new car. Gave it a wash and applied the Last coat according to there videos. Extremely easy to apply and so far the car shines and the rain is just beading off the car. It a great product.
Great stuff
Everything this outfit makes is fantastic. Leaves both my vehicles looking like new.
FINALLY
A company takes protection seriously. Former detail shop owner here, and VERY glad to see this product (and these guys) on the scene.
Works without trying.
I'm on youtube a lot and was being hammered with those F11 ads. So I did some researched and watched several comparison videos with F11 vs TLC2 as well as a few others. I chose TLC2 because it seemed to have the best performance, was readily available, and not outrageously priced. This is my 2003 Corolla after one coat. Believe me, the paint is far from perfect and I didn't do anything to improve it. The wipe on, buff off, procedure took maybe 20 minutes on a car this small. Just di the one coat, and the gloss is hiding all the flaws in the paint. Been about a month and the shine is still holding up. My neighbor just bought a bottle to do his car after seeing mine. Highly recommend TLC2.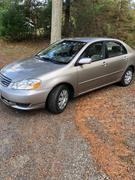 First time
I found it very user friendly. The shine was stellar.
First time user
This product did beyond my expectations
3 weeks ago
I live in the country and my truck Gets a lot of exposure... I hit lots of bugs driving country roads and sporadic showers. Three weeks ago I applied The Last Coat to my 2020 Tacoma and since then, I have been able to wipe dead bugs away easily, the water is still beading very tightly against the hood after rain and the paint feels like I just waxed it. Very smooth!