The Monster Kit
$399.95
$209.97
($189.98 savings)
You're looking at "The Monster" Special Gallon Kit.
Each of These Special "Monster" Special Gallon Kits Includes:
➡️ 1 - 16oz Bottle of The Last Coat ("TLC"). The World's Highest Performing INSTANT Surface Sealant, and Protector with Built-In Coating
➡️1- Full Gallon Jug of The Last Coat (TLC). That's a full 128 ounces of the World's Only INSTANT Surface Polish, Sealant, and Protector with Built-in Coating
➡️ 5 - High Quality, 400 GSM Professional Grade Microfiber Towels. Our professional microfiber fabric is 100 times finer than a human hair and comes in at over 90,000 microfibers per square inch. Scratch free, lint-free, ultra absorbent, and no tags or edges that can scratch delicate surfaces. These towels can be washed up to 500 times! (actual quantity of specific colors will vary based on available inventory.)
If you want to detail your car so it's 100% Money-Back guaranteed to be shiny, smooth and spotless on the first application… without having to spend hours on end sweating out in the sun… and without having to worry about how one week later, the car looks like it hasn't even been washed in weeks… then this is the most exciting and important message you will ever hear, and here's why:
The Last Coat ("TLC")
 is the World's Highest Performing, INSTANT High Concentration Professional Surface Enhancer that Cleans, Shines, and Protects Within 60 seconds of Application Utilizing Built-In coating Technology.
➡️ Goes on Easy, and Wipes Off Even
Easier, 
No Matter the Age or Shape You're In.
➡️ Easiest Coating You'll Ever Use - Guaranteed.


➡️ Protection and Coating Last Up to 6 Months!
➡️ 
Extremely
hydrophobic and UV protectant
➡️ Smooth,
Glass-Like
Feel in Seconds Even on
First
Application.
➡️ Gives Surfaces a Deep and Glossy Appearance.


➡️ Leaves No Streaking, and No Residue.

➡️ Keeps Surfaces Cleaner Longer - Makes Future Cleanings a Breeze
➡️
Protects
your vehicle from water, dirt, salt, UV rays, and more.
➡️ Bonds and Sets within 7 Minutes, No Long Curing Times Needed.
➡️ Can Be Layered within 10 Minutes for Enhanced Protection and Depth of Shine.
➡️ An Average Sized Car Takes Only 2-3 Ounces for Full Coverage!

➡️ Works on paint, chrome, glass, plastics, leather, vinyl, stainless steel, and more!


➡️ 100% Made in the USA!

Being detailers ourselves, we've already proven and field-tested The Last Coat on over 1,125 cars, trucks, and motorcycles that have driven in all kinds of weather conditions. We truly believe we've developed the most powerful product of it's kind. So much so, that we'll also give you a 365 Day Money Back Guarantee on your purchase, so you can purchase with absolute confidence.

REAL People.
 

REAL

 

Results.

We've had tons of customers excited about the results they've received when using The Last Coat. Hear in their own words what they had to say:


Tom Brings His Daily Driver to Life with The Last Coat:
Paul Showcases His "Show Stopping" Camaro:
James "Wows" Us With This Reflection:
We Can't Believe Jons Volvo Has 323,000 Miles and Looks THIS Good:
Karlo Shows How The Last Coat Protects From Rain and Water:
David in Charlotte Showing Off His 2006 Toyota Tundra:
Veronica Shows Us How She Used The Last Coat As a Waterless Wash For Fast Results:
➡️ Click Here to Check Out All of Our Customer Reviews


FYI, The Last Coat can also be applied with a foam cannon! Check out our Youtube channel or e-mail us to learn more about how.
And that's it! In a fraction of the time of traditional products, you can get a showroom shine, every time, guaranteed - when using The Last Coat!

If you have more questions, make sure to read our Frequently Asked Questions, and also check out our Video Demonstrations to see all the different surfaces and uses for The Last Coat, the World's most versatile and highest performing surface protectant and sealant with built-in coating technology!
Customer Reviews
Write a Review
Ask a Question
Filter Reviews:
shine
coat
truck
results
application
Cars
stuff
paint
The Last Coat
water
11/23/2020
Richard B.
United States
Great Product!
Easy to use and long lasting!
PC
11/23/2020
Paula C.
United States
11/22/2020
Sean X.
United States
11/22/2020
William B.
United States
Impressed
Great Product, Easy Application
11/21/2020
Tim F.
United States
Awesome and easy! Great Product great company!
I am a first time user. I have read all and watched all of the videos with product comparison. Decided to give TLC a try. Called to get the order going because I was leaving and didn't want it sitting on my front steps for a week. They rushed the order through and I got it. Now for the application - Both on my motorcycle and RV at first. Love it! Super easy to apply and seems to be as advertised. I will be a customer!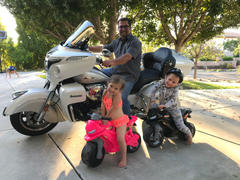 11/21/2020
Margaret R.
United States
THE LAST COAT for sure.
Super easy to apply and the results are awesome.
11/21/2020
Derrick S.
United States
Overall Experience
I was a little skeptical at first but after applying the last coat to my car it really works!!! Thanks last coat, I'll never have to use wax again!!! Lol
11/20/2020
Edwin G.
United States
11/20/2020
Jerry M.
United States
First time user
Have used a lot of other products don't like to use name of others so I will just call it F11 last coat by far out performs the rest. Did a ford ranger and a Santa Fe used about 1/3 of 16oz bottle.
11/19/2020
Frank B.
United States
TLC shines
TLC was easy to apply and buff thanks to the slightly oversized Micro fibre towels. After a good clay cleaning and prepping, applied TLC per instructions. End result was a deep shine which beaded up nicely when it rained a couple days later. Truck stayed clean after the rain as the water rolled off without leaving a residue or water spots. Zoom in on the picture and you can see the the reflection of the clouds on the truck. Glad I ordered the 3 bottle deal so I have enough product to last for several washings. One bottle will stay in the work shop to put protective coats on my tool boxes or other items. Product worked so well, I also used it to put a protective finish on the Acrylic pens I make on my lathe.