The Monster Kit
$399.95
$209.97
($189.98 savings)
You're looking at "The Monster" Special Gallon Kit.
Each of These Special "Monster" Special Gallon Kits Includes:
➡️ 1 - 16oz Bottle of The Last Coat ("TLC"). The World's Highest Performing INSTANT Surface Sealant, and Protector with Built-In Coating
➡️1- Full Gallon Jug of The Last Coat (TLC). That's a full 128 ounces of the World's Only INSTANT Surface Polish, Sealant, and Protector with Built-in Coating
➡️ 5 - High Quality, 400 GSM Professional Grade Microfiber Towels. Our professional microfiber fabric is 100 times finer than a human hair and comes in at over 90,000 microfibers per square inch. Scratch free, lint-free, ultra absorbent, and no tags or edges that can scratch delicate surfaces. These towels can be washed up to 500 times! (actual quantity of specific colors will vary based on available inventory.)
If you want to detail your car so it's 100% Money-Back guaranteed to be shiny, smooth and spotless on the first application… without having to spend hours on end sweating out in the sun… and without having to worry about how one week later, the car looks like it hasn't even been washed in weeks… then this is the most exciting and important message you will ever hear, and here's why:
The Last Coat ("TLC")
 is the World's Highest Performing, INSTANT High Concentration Professional Surface Enhancer that Cleans, Shines, and Protects Within 60 seconds of Application Utilizing Built-In coating Technology.
➡️ Goes on Easy, and Wipes Off Even
Easier, 
No Matter the Age or Shape You're In.
➡️ Easiest Coating You'll Ever Use - Guaranteed.


➡️ Protection and Coating Last Up to 6 Months!
➡️ 
Extremely
hydrophobic and UV protectant
➡️ Smooth,
Glass-Like
Feel in Seconds Even on
First
Application.
➡️ Gives Surfaces a Deep and Glossy Appearance.


➡️ Leaves No Streaking, and No Residue.

➡️ Keeps Surfaces Cleaner Longer - Makes Future Cleanings a Breeze
➡️
Protects
your vehicle from water, dirt, salt, UV rays, and more.
➡️ Bonds and Sets within 7 Minutes, No Long Curing Times Needed.
➡️ Can Be Layered within 10 Minutes for Enhanced Protection and Depth of Shine.
➡️ An Average Sized Car Takes Only 2-3 Ounces for Full Coverage!

➡️ Works on paint, chrome, glass, plastics, leather, vinyl, stainless steel, and more!


➡️ 100% Made in the USA!

Being detailers ourselves, we've already proven and field-tested The Last Coat on over 1,125 cars, trucks, and motorcycles that have driven in all kinds of weather conditions. We truly believe we've developed the most powerful product of it's kind. So much so, that we'll also give you a 365 Day Money Back Guarantee on your purchase, so you can purchase with absolute confidence.

REAL People.
 

REAL

 

Results.

We've had tons of customers excited about the results they've received when using The Last Coat. Hear in their own words what they had to say:


Tom Brings His Daily Driver to Life with The Last Coat:
Paul Showcases His "Show Stopping" Camaro:
James "Wows" Us With This Reflection:
We Can't Believe Jons Volvo Has 323,000 Miles and Looks THIS Good:
Karlo Shows How The Last Coat Protects From Rain and Water:
David in Charlotte Showing Off His 2006 Toyota Tundra:
Veronica Shows Us How She Used The Last Coat As a Waterless Wash For Fast Results:
➡️ Click Here to Check Out All of Our Customer Reviews


FYI, The Last Coat can also be applied with a foam cannon! Check out our Youtube channel or e-mail us to learn more about how.
And that's it! In a fraction of the time of traditional products, you can get a showroom shine, every time, guaranteed - when using The Last Coat!

If you have more questions, make sure to read our Frequently Asked Questions, and also check out our Video Demonstrations to see all the different surfaces and uses for The Last Coat, the World's most versatile and highest performing surface protectant and sealant with built-in coating technology!
Customer Reviews
Write a Review
Ask a Question
Filter Reviews:
truck
shine
finish
coat
stuff
Cars
The Last Coat
water
results
vehicle
09/21/2020
Scott L.
United States
Passed it on to four others.
I am happy with the product and have gotten 4 others to join me in using the Last Coat.
09/21/2020
Syed A.
United States
09/21/2020
Scott R.
United States
STUNNED & AMAZED
I was SHOCKED! I've been detailing cars for 37 years. This is a wonderfully easy using product that produces absolutely superb results. The shine and gloss gets even better after a few hours. I washed and applied another coat to my car in less time than it usually takes to wash it. This is because of the crazy hydrophobic property. The process is easy - Just a couple of sprays on the microfiber towel per panel, wipe, flip towel and wipe again - THAT IS IT! Just take a look at my 257,000 mile 2010 BMW.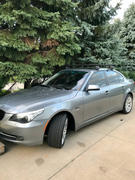 09/21/2020
William C.
United States
I used this on my Jeep and it looks brand new!
simple purchase, fast shipping, easy to apply great results--what is not to like?
09/21/2020
george r.
United States
09/20/2020
Enid H.
United States
Great product
Easy to apply shine is gorgeous
09/20/2020
Walter W.
United States
Last Coat
The product worked just great. I'm very satisfied with the results and would recommend to others. Thanks.'
09/20/2020
Andre D.
United States
Great review
Everything handled nicely.
09/20/2020
Brian C.
United States
Great shine
very easy on and a great smooth shiny finish
09/19/2020
clifford k.
United States
Week of bad weather
The TLC is great. Quick and easy application. Great results as stated in email to you on Sept 19th.