The Last Coat + AMP: Combo Bundles
$94.95
$49.97
(47% savings)
By very popular demand, we bring to you The Last Coat and AMP bundled together, a match made in detailer heaven.

These special bundle packs are the perfect way to stock up on two of our most popular products, The Last Coat and AMP.

With The Last Coat "TLC2", you're getting the World's Highest Performing, INSTANT High Concentration Professional Surface Enhancer that Shines, and Protects Within 60 seconds of Application Utilizing Built-In coating Technology.

And now, combined with our very popular hybrid topper "AMP", you'll be able to take your shine, gloss, and especially slickness to never before seen levels.

Select the package you're interested in above. We're offering even more discounted prices when purchasing more than one bundle pack. 

For both products, you'll only need about 1-2 oz for an average car exterior.

We recommend applying The Last Coat first and then applying AMP afterward, either immediately after, or as an ongoing maintenance topper.

AMP will increase the slickness and gloss to new levels, and can be diluted with distilled water (15:1) to be used as an amazingly effective glass cleaner. 

With these two products combined, you'll be able to get amazing results that LAST in a fraction of the time that traditional products take. 

Select your package above while supplies last.


REAL People.
REAL

Results.

We've had tons of customers excited about the results they've received when using The Last Coat. Hear in their own words what they had to say:


Tom Brings His Daily Driver to Life with The Last Coat:
Paul Showcases His "Show Stopping" Camaro:
James "Wows" Us With This Reflection:
We Can't Believe Jons Volvo Has 323,000 Miles and Looks THIS Good:
Karlo Shows How The Last Coat Protects From Rain and Water:
David in Charlotte Showing Off His 2006 Toyota Tundra:
Veronica Shows Us How She Used The Last Coat As a Waterless Wash For Fast Results:
➡️ Click Here to Check Out All of Our Customer Reviews


➡️Helps extend the life of expensive, professionally installed ceramic coatings if you have those installed on your vehicle.


➡️Safe to use on vinyl wrapped vehicles, PPF clear bras, vinyl decals, and fiberglass surfaces such as boats and RVs.


➡️Works great on ALL exterior surfaces including chrome and glass!


Frequently Asked Questions 
We've received some great questions from our visitors and customers on how they can use 
The Last Soap
most effectively. Here are the most common questions, answered:
Question:
 What exactly is in The Last Soap? What makes it so special?
Answer:
 Now although we don't reveal the secret sauce in any of our products, the best way to explain what's inside of The Last Soap is by saying that it's been "infused" with TLC's coating technology. The Last Soap is a hybrid soap and shampoo that not only cleans and detoxes your vehicles surface, but it also lays down a thin layer of protective, hydrophobic coating. It is, of course, our preferred car soap to use on vehicles that have been treated with TLC.
Question:
 Can I use The Last Soap in direct sunlight?
Answer:
Yes, you can. Although it is often best to use a soap such as The Last Soap when not in direct sunlight, we know this isn't always possible. What's more important is that you fully rinse off your vehicle when you're done the washing.
Question:
 Can The Last Soap be used as a prep soap for TLC?
Answer:
 Yes, of course, that's what we do. Now, since The Last Soap is 
pH neutral
, it isn't caustic or acidic. So, if you have previous waxes or sealants that you want to strip your surface of before applying TLC (recommended), then you may consider using a more aggressive soap such as Dawn dish soap which many of our customers do. Alternatively, you can also strip the vehicle using an alcohol wash. Or, another option is to wash your vehicle with The Last Soap, and then also use another prep of The Last Soap as a clay mitt lubricant for our Bare Slate clay mitts. This will also help you strip the surface of previous compounds. 
Question:
How many washes will I get out of one 32 oz. bottle?
Answer:
 Whether using a foam cannon or wash buckets with The Last Soap, you should only need 1-3 ounces per wash. Go on the higher end if you like a lot of foam. So that means you will get anywhere between 10 and 30 washes per 32 ounce bottle.
Question:
 Can I wash my vehicle with The Last Soap without damaging my layer of TLC?
Answer:
The Last Soap was specifically designed for being pH neutral and gentle on your layers of TLC or on ceramic coated vehicles. But, even more impressive is that The Last Soap will actually help rebuild your TLC layer, as well as preserve and enhance it's hydrophobic and protective effects.
Question:
How long does it take to receive my package after ordering?
Answer:
Currently all shipments are being fulfilled within 24-36 hours, and customers typically receive their order within 3-5 business days in the United States.
Question:
Does The Last Soap work on all exterior surfaces such as chrome, glass, rims, etc?
Answer:
Yes! Absolutely. We use The Last Soap internally for all exterior surfaces. It does great on glass and chrome! 
Question:
 Can The Last Soap be used as a clay lubricant?
Answer:
 Yes. We use The Last Soap with our Bare Slate clay mitts all the time. Just make sure that the surface is very slick and hydrated before rubbing your clay mitt across it.
Question:
Does The Last Soap leave any streaking or residue?
Answer:
 No, applied correctly you should have no issue. The main thing to keep in mind is to make sure that The Last Soap is fully rinsed off after you wash, as should be done with any soap of course.
Question:
Can The Last Soap be applied to a car that has a ceramic coating on it?
Answer:
Yes absolutely. The Last Soap will help preserve and protect ceramic coated cars and is the ideal soap for TLC coated and ceramic coated vehicles.
Question:
Do you sell gallons or only the 32 oz bottles and bundles?
Answer:
 We don't sell gallons of The Last Soap at this time. However, we do have our "Buy 3 Get 1 Free" bundle on this page, which is effectively 1 gallon worth of The Last Soap at reduced pricing.
Question:
Does The Last Soap work on car wraps, vinyl wraps, etc.?
Answer:
Yes, The Last Soap is perfect for vinyl wraps, paint protection films (clear bra). The red BMW in our demo videos for The Last Soap is vinyl wrapped!
Question:
Is The Last Soap freezable or flammable?
Answer:
The Last Soap is non-flammable, so you're good there. However, when storing below 32°F/0°C, it may freeze. In other words, not advised to store outside during freezing temperatures.
Question:
 What's the lowest temperature I can apply The Last Soap in?
Answer:
 We recommend the temperature being above 40 degrees when applying The Last Soap. 
Question:
Do you offer a trial bottle or sample bottle of The Last Soap?
Answer:
 Nope, not at this time. :)
DIRECTIONS FOR GETTING PROFESSIONAL RESULTS:
As with all of our products, The Last Soap is super-simple to use. We recommend following the directions below to get the best results. 
With The Last Soap, 

always remember to SHAKE WELL

 before pouring The Last Soap into your foam cannon or wash bucket. This makes sure that the detox and the coating properties are blended even in your foam solution. Very important!



If Washing By Hand:

• Pour 1-3 ounces of The Last Soap into a 5-gallon wash bucket.

• Proceed to use water pressure to create suds.

• Then simply begin to wash the surface with our premium 400 GSM microfiber towels or synthetic wool wash mitt. 


If Washing With a Foam Cannon:

• When using a foam cannon such as the MTM HydroParts PF-22 Foam Cannon (our preferred foam cannon), then simply combine 1-3 ounces of The Last Soap with roughly 30 ounces of water in the foam cannon. Using a heavier concentration of The Last Soap will yield more foam production.

After washing, make sure that the vehicle is rinsed completely free of The Last Soap.

For best results after washing, make sure to apply The Last Coat to further protect, shine, and seal your vehicle, resulting in world-class head-turning shine that will last up to 6 months! 



Customer Reviews
Write a Review
Ask a Question
Filter Reviews:
shine
coat
truck
results
application
Cars
stuff
paint
The Last Coat
water
11/23/2020
Richard B.
United States
Great Product!
Easy to use and long lasting!
PC
11/23/2020
Paula C.
United States
11/22/2020
Sean X.
United States
11/22/2020
William B.
United States
Impressed
Great Product, Easy Application
11/21/2020
Tim F.
United States
Awesome and easy! Great Product great company!
I am a first time user. I have read all and watched all of the videos with product comparison. Decided to give TLC a try. Called to get the order going because I was leaving and didn't want it sitting on my front steps for a week. They rushed the order through and I got it. Now for the application - Both on my motorcycle and RV at first. Love it! Super easy to apply and seems to be as advertised. I will be a customer!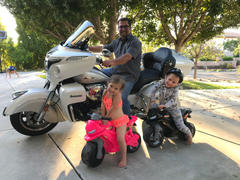 11/21/2020
Margaret R.
United States
THE LAST COAT for sure.
Super easy to apply and the results are awesome.
11/21/2020
Derrick S.
United States
Overall Experience
I was a little skeptical at first but after applying the last coat to my car it really works!!! Thanks last coat, I'll never have to use wax again!!! Lol
11/20/2020
Edwin G.
United States
11/20/2020
Jerry M.
United States
First time user
Have used a lot of other products don't like to use name of others so I will just call it F11 last coat by far out performs the rest. Did a ford ranger and a Santa Fe used about 1/3 of 16oz bottle.
11/19/2020
Frank B.
United States
TLC shines
TLC was easy to apply and buff thanks to the slightly oversized Micro fibre towels. After a good clay cleaning and prepping, applied TLC per instructions. End result was a deep shine which beaded up nicely when it rained a couple days later. Truck stayed clean after the rain as the water rolled off without leaving a residue or water spots. Zoom in on the picture and you can see the the reflection of the clouds on the truck. Glad I ordered the 3 bottle deal so I have enough product to last for several washings. One bottle will stay in the work shop to put protective coats on my tool boxes or other items. Product worked so well, I also used it to put a protective finish on the Acrylic pens I make on my lathe.