ClearSR - Professional Strength Water Spot Remover
$34.95
$24.95
(28% savings)
We all know that water spots can be a pain to deal with. Those pesky mineral deposits and stains leftover from dirty, hard water typically need to be removed before applying coatings such as The Last Coat.

Brought to you by The Last Coat comes ClearSR, our easy to use, professional-strength water spot remover which can be used to quickly remove water spots on painted surfaces, glass, metal, and much more. 
(note: we don't recommend using it on raw aluminum though, it's strong and could etch it)

ClearSR is an acid-based water spot remover that makes quick work of most water spots. We'd go as far as saying that if ClearSR can't remove a water spot, you're most likely going to want to buff it off. Usually for deep etched in water spots, that's what has to happen. That's physical damage and ClearSR will remove a good amount, but at that point of true physical damage, you need physical correction. BUT, for a large majority of water spots, ClearSR will do the job!

Normally, if a water spot is on your surface and you attempt to remove it right away, it can typically be wiped away with ease with a bit of The Last Coat or AMP on a microfiber towel, or during your wash with The Last Soap. If left on overnight, usually our Bare Slate Clay Mitt can make quick work of them.

However, when spots have been on longer and are baked in, you need to have a more aggressive approach.

That's where ClearSR comes in. It helps erase water spots and mineral stains from painted surfaces, glass, polished metal surfaces, and much more. What this does is leaves you with a completely clear surface, and does so in a way that won't damage the surface of your vehicle.


Why You'll Love ClearSR:


➡️ Helps quickly, easily, and permanently remove water spots from your vehicle surfaces.


➡️ Gives glass a crystal clear appearance ready to be coated and protected.


➡️ Extremely easy to use. Simply apply a bit of ClearSR to a microfiber towel and begin rubbing the affected area (full directions are below).


➡️ Works on almost all water spots using an effective acid based approach. If you have spots that ClearSR can't break down, you're most likely going to need to polish them off. It's powerful stuff!



Directions for Using ClearSR:


**DO NOT use in direct sunlight especially on glass.  Surface should be cool to the touch.**

1) Wash the vehicle to remove surface dirt. We recommend washing with a basic soap that does not contain waxes or conditioners. You may use The Last Soap as well for this step.

2) Dry the area that has water spots.

3) Using ClearSR, wet a 1"-2" area on a microfiber towel and begin to rub on the area affected by water spots. As you rub, they will start to dissolve and disappear. Repeat until all water spots are removed.

4) Rinse the treated surface with high-pressure water to fully remove any ClearSR that remains on the surface.

5) If any ClearSR still remains after using a high-pressure rinse, then simply hand wash with soap and water to remove excess residue. You will typically be able to visually easily see if there is an excess on the surface. It will almost look "streaky". Simply wash to remove if any ClearSR still remains.

6) Once spots are removed feel free to apply The Last Coat, AMP, or Black Ice to the surface if you desire. Make sure to do a 70% IPA wipedown before applying the coatings, per usual.


Safety Information:

• May be harmful if swallowed. May cause skin burns and eye damage. Make sure to wear protective equipment where needed. We recommend gloves.

• If on the skin, wash with plenty of soap and water.

• Avoid inhalation, use adequate ventilation. 

KEEP OUT OF REACH OF CHILDREN

Customer Reviews
Write a Review
Ask a Question
Filter Reviews:
water spots
ClearSR
effort
vehicles
stuff
shine
truck
spots
windshield
bottle
11/09/2020
David G.
United States
Clear SR
I had bad water spots on my Black truck and after using Clear SR ALL of the spots are now gone. I highly recommend this product
10/25/2020
Mark K.
United States
Awesome
I was reluctant about using the CLEARSR on my 2019 Chevrolet 2500HD truck, but the water spots were terrible. I put a little of it on a microfiber towel and lightly applied it on my hood. The water spots came right off with no effort. It's amazing how well it works! Will be using this on my customers vehicles in the future. I try any new product on my personal vehicle before using it with my car detailing business. Thanks!
10/24/2020
Humberto R.
United States
Great product remover on glass
Did my stepfather's Toyota 2004 Camry sport on glass first and all water spots got removed. Since I was kind of a hurry to get to my regular job, couldn't do the same on the paint but definitely will complete the task an leave another review on the performance on paint.
10/23/2020
Dario R.
United States
The product
I have been looking at the product for a while and now using it on my Silver Subaru I can tell you its worth ever penny. amazing product leave my car and rims like they are brand new.
10/23/2020
Douglas W.
United States
Superior Products
I owned a restoration Shop, have personally gone through two Paint manufacturers schools, and still get friends cars ready for competitions. Having noted this, I have purchased, and compared most ALL of the Ceramic product systems currently available on the U.S. Market. The Last Coat line, in my opinion is Superior to all! Do ALL the noted preparation / base work,and the results I GUARANTEE will be stunning and Long Lasting. Touch up on a monthly basis, again, washing with the Last Coat Soap will maintain Vehicles protection, and Shine with minimal effort. Removal of Dust, Bird droppings, Bug Jerky, and Brake Dust is virtually effortless. Purchase and USE the Last Coat Product Line with Total Confidence. Doc Watson / Owner: Class Corvette.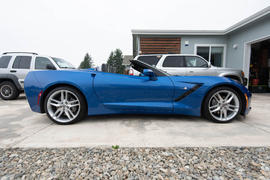 10/10/2020
Dave
United States
10/06/2020
Rafael D.
United States
TOO GOOD TO BE TRUE?...IT REALLY IS !
This is my 2008 Toyota Camry. The windshield glass was really bad as you will see in the video. I watched a review in Youtube from PAN TheOrganizer about this product and I decided to give it a try. I was really sceptic about the result I could get from it. I mean, the car has 12 yrs now and never being treated for water spots so nasty adhered to the glass. You can see the before and after...AMAZING!! A tip: I started to apply the product as indicated in the instructions but it was really hard and the outcome was no so good. Then I decided to use a polishing pad (3M 2648 Finesse-it Buffing Pad 02648, 3-1/4 in) to apply the product. This made a HUGE difference in the final result.
09/24/2020
Raymond L.
United States
Great stuff !!!!
This product lives up to claims. Easy to use and quick.
09/23/2020
Raymond S.
United States
Wow!
I hesitated but so glad I jumped in! The results are amazing! This was easy to use and my vehicle is the best looking one on my street.