CeraTrim - Ceramic Powered Trim Restorer (8 oz.)
$44.95
$29.97
(33% savings)
*** Please Note: Due to very high demand of CeraTrim and bottle shortages caused by COVID, some CeraTrim orders may come in clear bottles instead of black. It is the exact same product though.***
Brought to you by The Last Coat comes our ultra-durable ceramic-based trim restorer, CeraTrim.

CeraTrim uses our popular and effective ceramic technology to bond deep into the pores of plastic trim surfaces, removing the impurities that have built up in the plastic and effectively restoring them to their original appearance. Check out the video below to learn more and to see how easy it is to apply and how much to use:



Unlike most trim products, CeraTrim is no mere dressing or stain. It is a true ceramic coating that will give your trim surfaces superior hydrophobic and self-cleaning properties and will protect your trim for the long haul under any driving conditions while restoring them to a newer appearance.

CeraTrim can be used on all trim pieces throughout your vehicle, inside and out. It can be used on engine bay plastics to restore their appearance.

We have also used CeraTrim as a durable tire dressing, but keep in mind this is an "off-label" use and requires 2-3 coats. (please note for interior pieces it will make them glossy, so if you prefer the matte look, best to avoid CeraTrim for the interior.)


CeraTrim can be layered to get an even higher shine or deeper wet look, and even more protection. It can be re-applied over time as desired as well.


All CeraTrim Kits Come with the Following:

➡️ 1 x 8 oz. Bottle of CeraTrim

➡️ 1 x Foam Applicator (this is our preferred way of applying as seen in our videos. We like the foam applicator provided as it allows us to push CeraTrim into the pores of the surface more effectively.)


Directions for Applying CeraTrim:

Step 1: Plastics and rubbers need to be as clean as possible before applying CeraTrim. Any prior dressings should be removed. You do not want anything affecting the bonding of CeraTrim to the trim surface. You will want to use a basic vehicle soap (no wax-based soaps), but in addition, you will need to use a degreaser or all-purpose cleaner (APC) and a soft bristle brush to agitate down into the texture of the plastic or rubber.

Step 2: With high-pressure water, thoroughly rinse the area ensuring to get full removal of any soaps or detergents.

Step 3: If the plastic or rubber doesn't become fully clean and bare, repeat the process until you achieve the deepest clean possible.

Step 4: Thoroughly dry the plastic or rubber and then apply CeraTrim with the included applicator.

Step 5: Allow it to dwell for 5-20 minutes (depending on how faded the surface is).

Step 6: IMPORTANT - DO NOT SKIP THIS STEP - After the dwell period take a dry microfiber towel and buff the trim surface to remove excess residue that will be sitting on top. This is very important.

Please Note: Full cure time for CeraTrim is 24 hours. Do not let these surfaces get wet in the first 24 hours after application.


We know you'll love CeraTrim as much as we do and as much as our customers have. It is a versatile, durable, true restoration product that will bring trim plastics and rubbers back to life in a big way, and keeping them looking that way for a long time! If you have any questions, feel free to reach out to us.


***Please note, applying CeraTrim can make surfaces very slick when wet, so when applying to running boards on your vehicle please keep this in mind as they may be quite slippery when wet.***



Proposition 65 Warning: This product contains Methanol which is on the Prop 65 List for Chemicals of Concern. For more information go to www.P65Warnings.ca.gov
Customer Reviews
Write a Review
Ask a Question
Filter Reviews:
truck
shine
coat
stuff
results
vehicle
application
plastic
trim
look
N
09/22/2020
Nick
United States
CeraTrim offers amazing results.
We put CeraTrim to the test by applying it to a 5 year old truck that looked neglected. In retrospect, I wish I would have spent more time prepping it as suggested. Up close, there are some visible imperfections that probably could have been removed prior to applying CeraTrim. However, even with a basic cleaning before application, the results are amazing. The faded trim pieces shine like they're wet, but the after photos here are after wiping with no residue coming off. I've also applied it to my new vehicles kept outside. Months in, it has kept everything looking new.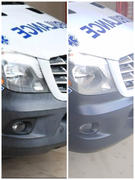 09/20/2020
Robert M.
United States
Cera trim Pure magic
This product should be called pure magic. I restored the trim on my sons 2013 juke and it went from light grey to black again immediately. All the same hydrophobic properties of the the last coat products. If you have fender flares on a jeep or truck this is a must have in your garage.
09/18/2020
Everett G.
United States
Good Product
To date it seems to do the job. I'll have to apply this product a few more times before cool weather returns to lock in a good coating for the winter.
09/18/2020
Steven R.
United States
Works as advertised
Simple to use and effective. Very happy wist the Last Coat line of products
09/17/2020
SCOTT W.
United States
09/17/2020
Jim D.
United States
Excellent product and value!
This stuff is easy to apply, looks great, and a little goes a long way. It is NOT a dye, so if you have gray or dark gray trim, it will simply restore it to the OEM look and not artificially turn it black. It also works great on black trim. I have not had it on my vehicle long enough to comment on durability, but there are plenty of torture test videos on YouTube demonstrating this product's resiliency so I am confident it will stand the test of time.
09/16/2020
Timothy m.
United States
Cera trim
Wow this stuff is great, I have a 2003 four runner with plastic trim on the bottom third of the body it was in really bad shape, I've tried almost every thing I could find to restore it and have even considered painting it. This seamed like the last thing I'd try. It may very well be The Last Coat . Thank you for a very fine product. Also I said what the heck l try it on the head lights , they look darn near new .
09/08/2020
Thomas R.
United States
Cera Trim
Most impressed of how long it lasts. Applied 2 weeks ago and still looks like I just put it on. Even had some rain.
09/07/2020
sean k.
United States