Black Ice Ceramic Coating
$89.95
$49.97
(44% savings)
When we surveyed our pro detailing customers on what products would be most beneficial for them, a common theme kept coming up. Most of the guys wanted a protective coating that was easy to use, lasted long, had extremely high gloss, amazing slickness, high levels of hydrophobic and self-cleaning ability, and was efficient (meaning very little was needed).

This is the coating detailers will want to have before the competition gets their hands on it. It's efficient, effective, clients will love the results, and it gets detailers a great ROI on coating services.

The Last Coat proudly brings you, by popular demand, Black Ice.

With unreal hydrophobic properties, Black Ice was formulated for our pro-detailer customers who wanted to offer longer-term coating services to their customers while generating a great ROI for every bottle they purchase. One bottle of Black Ice will put hundreds if not thousands of dollars into the pocket of the pro and mobile detailer.

Each purchase of Black Ice comes with the following:

• Either a 4 oz. or 8 oz. bottle of Black Ice, depending on the desired size. An average-sized vehicle takes under 1 oz. for one layer of Black Ice.
• A high-quality sponge applicator for applying Black Ice.

• One of our Premium 400 GSM Microfiber towels for buffing off.

*sponge applicator and microfiber towel should be discarded after all layers have been applied initially.

Black Ice is an extremely efficient coating. Meaning, an average-sized vehicle takes usually under 1 oz. to complete the exterior. Check out this video below to learn more about Black Ice and how to apply it:

Common Questions About Black Ice:

1) How is Black Ice different from The Last Coat (TLC2)?


This is probably our most common question. The Last Coat (TLC2) will likely be most people's go-to coating for all surfaces. Black Ice is for exterior surfaces only. So this means external painted surfaces, glass, vinyl, and matte surfaces.

Both products are extremely durable, but Black Ice tends to have more longevity as well as more hydrophobics and a tighter beading pattern. Built off similar mesh technology as TLC2, Black Ice was formulated specifically for external surfaces only and for more longevity, primarily for detailers looking to offer longer-term coating services to their clients.

The longevity and focus on external surfaces are the main differences.

The cure time on Black Ice is longer, with full curing happening after 7 days, whereas TLC2 full cure is after 24 hours. Keep in mind the 7 day cure time is curing before washing, exposure to harsh chemicals, and before applying any toppers such as TLC2 or AMP if desired. After 24 hours, Black Ice can be exposed to normal driving conditions typically. With Black Ice, you tend to use even less than TLC2 (hard to believe, yes). An average-sized vehicle exterior can be done often with under 1 oz. per layer.

We also state that for best results with Black Ice, you will want to apply on a paint corrected surface free of swirls or scratches.

Lastly, Black Ice is best applied with the included applicator and then buffed off with the included microfiber towel. With Black Ice it is recommended to discard the towel and applicator after application.

2) Can Black Ice be used together with The Last Coat (TLC2) and/or AMP?
Yes, absolutely! Since Black Ice requires a paint corrected, swirl-free surface, after the polishing process (if required) you would apply Black Ice to be your durable base layer. You would then allow Black Ice to cure for 7 days before applying TLC2 or AMP. At that time, you can then apply TLC2 and AMP for regular maintenance to help preserve and rebuild on the Black Ice layer.


3) What surfaces can Black Ice be used on?
Black Ice can be used on most exterior surfaces including painted surfaces, matte and vinyl surfaces, denim surfaces, glass, fiberglass, gel-coat, as well as chrome. The surface should be cool to the touch when applying. 


4) Can Black Ice be applied in direct sunlight, and in what temperature ranges?

Ideally, you are not working in direct sunlight when applying Black Ice. But, if you must, it is important to work in small 2' x 2' areas when applying. It is best to apply in temperatures above 40 degrees Fahrenheit, and below 90 degrees if possible. All surfaces should ideally be cool to the touch when applying, especially glass and chrome. 


5) Can Black Ice be used to remove water spots from a surface?

No, the surface should be free of scratches, swirls, and water spots before applying Black Ice. 

6) Can Black Ice be applied to a vehicle that has a ceramic coating on it?

With the exception of high end, professionally installed ceramic coatings, Black Ice should be the base layer when using it. Typically, TLC2 will be best as a topper for a high-end ceramic coated vehicle.

7) Can Black Ice be used on interior and home surfaces?

No, we do not recommend applying Black Ice on vehicle interior or home surfaces. 

Full Prep and Application Instructions for Black Ice:

This video below goes through the entire prep process for Black Ice. You can also read the directions in text below the video:




For best results, and to get the most durability and longevity, you would want a scratch and swirl-free surface (a paint correction) ideally. And also a surface that is entirely clean and stripped free of waxes, polishes, solvents, and sealants (including TLC). Here's what we recommend:

Step One: Wash your vehicle.

Step Two: Decontaminate the paint surface with a clay mitt, clay bar or chemical removal.

Step Three: (if paint requires it, if not move on to step four). Compound/polish (paint correction)the paint surface to remove swirls, defects and bring the surface to a high gloss. 

***In terms of what compound and polish to use, we like stuff that is professional-grade but still easy to use. The two that we use personally in-house that can be purchased easily are "The Last Cut" by TLD Detail NV (no affiliation, just similar names). It's a great compounding product that is easier to use than some other professional-grade products. Another that we use is Sonax Perfect FInish, it works well for gloss and minimal clear coat removal, just won't remove a lot of deep swirls as The Last Cut will. We do not recommend many of the lower end polishes that will leave behind residue and such that can be hard to remove via IPA, and thus affecting bonding to the surface and longevity.***

Step Four: Wipe down the vehicle with 70% isopropyl alcohol (IPA) on a microfiber and let the IPA air dry or use a surface prep cleaner. This will remove all waxes, polishing oils if used, and residue to ensure a clean surface.

Step Five: Using a microfiber applicator, spray 2-5 sprays (depending on panel) of BLACK ICE directly onto the applicator and then wipe on to paint surfaces in a hashtag type pattern. Then take a CLEAN microfiber towel to buff off BLACK ICE to an extremely high gloss, slick finish. For larger vehicles use a new buffing microfiber towel halfway through to ensure full removal. Full removal is very important. Discard towels/applicator after use.

Step Six: If additional layers are desired, wait 1 hour before applying the additional layer. Due to the minimal amounts used when applied, it is a great idea to do 2-3 layers of BLACK ICE.

IMPORTANT: Wait 24 hours before water contact and a full 7 days before washing with high-pressure water or soaps, or exposing to harsh chemicals. The full cure time is 7 days.

After 7 days TLC2 and/or AMP can be used to wipe down the vehicle after washing or to remove bird droppings, fingerprints, or to remove light dust. TLC2 will also add layers of protection on top of BLACK ICE and help preserve and rebuild it as well.
Customer Reviews
Write a Review
Ask a Question
Filter Reviews:
truck
shine
coat
stuff
results
paint
vehicles
gloss
TLC2
black ice
09/18/2020
Jake M.
United States
Ceramic Coating Made My Car Look Brand New
The ceramic coating was easy to use and coated my car for the New York winter. No more waxing the car, while keeping the car protected for a long time. Got many compliments on the car so far!! I would definately recomend the ceramic coat as well as all last coat products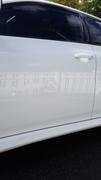 09/14/2020
Sam N.
United States
09/14/2020
J.P. Morgan
United States
TLC Products are unmatched
If you havent used TLC, AMP, Last Soap, or Black Ice yet you are in for a treat. Great products, staff, customer service, etc. Glad to see the personal touch is still there in a business world where often bottom line numbers and market share seem to rule the day. Even people/clients are numbered everywhere it feels at the corporate level. I hope Nick and Chad are sitting on their yacht somewhere sunny right now sipping a cold one simply because they care about their product, customers, and service enough to do it with excellence. These products should be in every household in the world, not just the US. And yes they're that innovative, cost effective, and useful. So if you haven't tried any of them yet dont wait any longer, let TLC's product line wow you over and over. Trust me, you'll be happy you did. Many are now trying to knockoff these products, hiring fancy chemists to break them down by ingredient, then copy & tweak the recipe just enough to sell it under their own label or even boldly re-bottle TLC products as their own. Cmon thieves, will you get a backbone please! I know, wishful thinking right? Nevertheless, keep up the good work Team TLC!
09/12/2020
Charles B.
United States
Microfiber coating sponge
They work great nice even wide swipes faster than round ones im hooked on there prouducts so will definitely reorder thanks TLC
09/12/2020
Harold L.
United States
Time Saver
After having tried many different products on the market, I've found Last Coat to be the time saver and end results product it claims to be. Easy to apply and shine is outstanding.
09/11/2020
Graciano U.
United States
Slick
I did a vehicle decontamination and polish before applying your product, and have to say that it pretty slick to the touch. I'm impressed.
09/08/2020
David P.
United States
New Way Protection
This a lot easier to apply and greater results and just as longer protection.
09/08/2020
james h.
United States
Black Ice - Can TLC get any better?
Wow, I applied the new Black Ice product, waited a week for it to cure, and applied a coat of the regular TLC and the shine is simply extraordinary. I am out of AMP at the moment but that would add yet another of protection and glass like finish.
09/07/2020
stanley j.
United States
black ice
5 star my 2010 challenger looks great
E
09/06/2020
Erin
United States
Amazing!
Wow! This product is amazing. The shine on my Jeep that has over 100,000 miles is shocking.